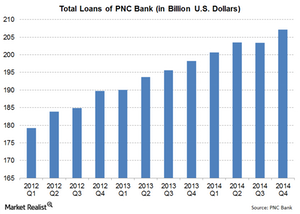 PNC Bank: Loans positioned for increasing rates
By Saul Perez

Feb. 23 2015, Updated 7:05 p.m. ET
Loans most important assets for PNC Bank
We learned in the last article that loans are the biggest asset class of PNC Bank (PNC), accounting for nearly 61% of the bank's total assets at the end of 2014. Total loans at PNC Bank stood at $207.15 billion, growing by nearly 16% over the last three years.
Article continues below advertisement
Loan-to-asset ratio sees recent decline
The proportion of loans to total assets (or the loan-to-asset ratio) stood at 60.83% at the end of 2014 and has declined in the past two quarters. This ratio stood at 62.79% at the end of 2013, resulting in a decline of 96 basis points. This ratio peaked in 2Q13 at nearly 64.5%.
PNC Bank loan-to-asset ratio matches peers
Banks benefit from an increasing interest rate spread between long-term and short-term rates. They can pay less on short-term deposits and earn more on long-term loans such as mortgages.
Historically, PNC Bank has maintained this ratio in a range of 55%–60%. Its peers such as Wells Fargo (WFC), Capital One (COF), and US Bank (USB) also have similar loan-to-asset ratios. This ratio is quite different for other banks in the portfolio of the Financial Select Sector SPDR ETF (XLF).
Currently, the ratio is a bit higher for PNC Bank, as the bank positions its balance sheet for a rising interest rate scenario. However, the bank does not want to sacrifice prudent loan underwriting for gains from expected rate hikes. The recent statements from the Federal Reserve also point out that the rates may not rise too soon. So, this decline has largely been due to the bank recalibrating its approach moderately, but not at cost of quality of its loans.