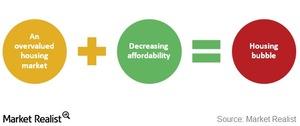 Overvaluation and decreasing affordability drive a housing bubble
By Surbhi Jain

Updated
What drives a housing bubble?
There are two main drivers of every housing bubble:
Overvaluation in the housing market
Decreasing affordability among households
Article continues below advertisement
Overvaluation in the housing market
Housing bubbles are primarily fueled by rising house prices. Increased market demand for houses, with limited supply, leads to increased prices. Higher prices lure speculators that enter the market to make short-term gains. This creates artificial demand. It drives prices up more. When prices reach a point above the equilibrium level, as determined by the free market demand and supply forces, the market is in a state of overvaluation.
Decreasing affordability among households
If the price rise isn't accompanied by an equivalent rise in income—rarely the case in an artificially inflated market—consumer's affordability tends to decrease with increasing prices. Also, an interest rate rise could be introduced by the economy's central banker as a means to keep the housing demand in check. It adds to the unaffordability quotient of the average homebuyer.
Article continues below advertisement
Canada is facing both drivers
Canada is in a situation where it's displaying both of these characteristics. In Canada, home prices are 3.9x the median income. This makes Canada seriously unaffordable. We'll discuss this more later in this series.
Also, the slump in oil prices added to the average Canadians' financial woes. The decline in oil prices, unaccompanied by an equivalent rise in median income, led the Canadian public to take on more debt to fund home purchases.
The slump in oil prices impacted the oil-rich Canadian economy. It also impacted the iShares MSCI Canada ETF (EWC). It impacted energy companies—like Suncor Energy Inc. (SU), Enbridge Inc. (ENB), and TransCanada Corp. (TRP). It also impacted US ETFs—like the United States Oil ETF (USO) and the ProShares Ultra Bloomberg Crude Oil (UCO).
In the next part of this series, we'll discuss how oil prices are critical to affordability in Canada.