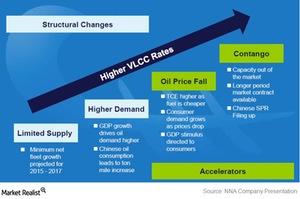 Oil price drop leads to higher very-large-crude-carrier rates
By Katie Dale

Aug. 18 2020, Updated 4:16 a.m. ET
Oil price dip
Since June 2014, crude oil prices have declined by around 50%, providing the opportunity for major oil-consuming economies to restock strategic and commercial crude oil reserves at relatively little cost. The drop in prices could also serve as a catalyst to stimulate gross domestic product growth.
In 2015, oil prices have increased 6.7% year-to-date. In mid-February, oil prices reversed the downtrend, as US producers reduced production levels.
Article continues below advertisement
Higher rates
Navios Maritime Acquisition (NNA) believes that the structural changes in the crude oil industry are likely to push VLCC (very large crude carrier) rates higher. Looking ahead, minimal net fleet growth is projected for VLCCs in 2015 through 2017. On the other hand, increasing demand from the Asian economies, particularly China, would lead to ton-mile increases.
The SPDR S&P China ETF (GXC) tracks publicly traded companies in China.
VLCC rates are also driven higher from the effect of filling floating storage and strategic petroleum reserves around the world. As current fuel prices fall below log-time inflation, the adjusted average oil price leads to contango, and that drives VLCC rates higher. Declining energy prices boost US and Eurozone GDP (gross domestic product) growth.
Higher VLCC rates would benefit NNA as well as peers such as Teekay Tankers (TNK), Tsakos Energy Navigation (TNP), Scorpio Tankers (STNG), and Capital Product Partners (CPLP).
The PowerShares DB Oil Fund ETF (DBO) tracks the performance of crude oil.
Global GDP
According to the International Monetary Fund, global GDP growth for 2015 and 2016 is estimated at 3.5% and 3.7%, respectively. This growth will be led by emerging and developing markets growth of 4.3% in 2015 and 4.7% in 2016.
The International Energy Association projects global oil demand will rise by 0.9 million barrels per day to 93.4 million barrels per day in 2015, well below historical averages. Most of the projected growth is expected from non-OECD (Organisation for Economic Co-operation and Development) countries, particularly those in the Asia-Pacific region.