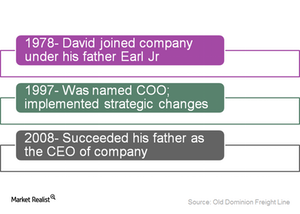 ODFL's David Congdon is a man with a vision
By Ally Schmidt

Updated
ODFL management
Old Dominion Freight Line's top management positions have stayed in the Congdon family ever since the company's start. After Earl Congdon, the founder of the company, passed away, Lillian Congdon and her sons managed the company.
Article continues below advertisement
David Congdon
David Congdon is currently ODFL's CEO and president. He was recently named to Institutional Investor Magazine's 2015 All-America Executive Team. He has been named as one of the top three CEOs in the airfreight and surface transportation sector.
Congdon joined the company in 1978 and worked his way through to become the COO in 1997. He laid the foundation of the company with strategies for what he envisioned the publicly traded company would become in ten years.
Since he joined the company, Congdon has maintained a regional (or short haul) and interregional (or long haul) focus. He invested $9 million to $15 million annually to upgrade the company's IT network and infrastructure, and also began a string of relentless upgrades to the company's pickup-and-delivery service centers.
The upgrades that Congdon made were what finally transformed the company from the traditional LTL (less-than-truckload) shipper into a serious regional and interregional player, thus enabling it to compete with nationwide powerhouses like United Parcel Service (UPS), FedEx (FDX), ABF freight system, and Con-way Freight (CNW).
Achievements
Congdon's vision has transformed what used to be only a trucking company into a single-source provider of transportation solutions. The company today stands as the fifth largest truckload carrier by revenue. It also boasts an on-time service performance record of about 99%. Plus, during the economic downturn, it was the only carrier to post a profit in 2009 while not cutting wages.