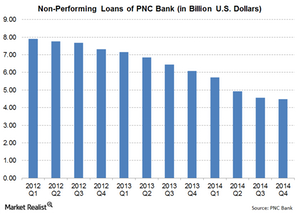 Non-performing assets are at a manageable level
By Saul Perez

Mar. 6 2015, Updated 1:04 p.m. ET
Non-performing assets have the most negative impact
Non-performing assets (or NPA) are a bank's loans that are not likely to be repaid or are in default by borrowers. All loans where the principal component of the loan has not been paid for more than 90 days are considered to be non-performing assets.
Banks must provision for their non-performing assets from their profits. In some extreme cases, the non-performing assets exceed the profits. In these cases, a bank must take a hit to its capital to provide for its non-performing assets.
Article continues below advertisement
PNC Bank sees declining non-performing assets
PNC Bank (PNC) saw a declining trend in non-performing assets in the medium term and reported declining NPA for 12 continuous quarters. This is largely due to better loan underwriting, improving economic conditions, and lower interest rates on loans.
After the subprime crisis, banks improved their loan underwriting norms. Many consumers are also wary of taking loans that may be difficult to repay. Lower interest rates on loans, along with an improved economic environment, meant that the loan servicing capacity of borrowers has improved. All these factors helped PNC Bank reduce its non-performing assets.
Decreasing NPAs are sector-wide phenomenon
However, the need to decrease non-performing assets is not limited to PNC Bank alone, because the reasons for the fall in NPA are sector-wide and are not unique to PNC Bank. Peer banks such as Wells Fargo (WFC), Capital One (COF), and US Bank (USB) also reported decreasing NPA over the last few years.
This trend also holds true for most of the banks in a broad portfolio, such as those banks in the Financial Select Sector SPDR ETF (XLF).