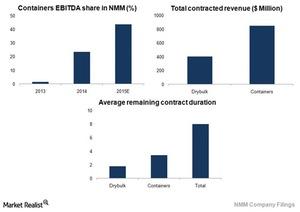 Navios Maritime Partners wins big in container sector
By Katie Dale

Updated
Foray into container sector
Navios Maritime Partners (NMM), entered the container sector in December 2013 in an effort to diversify its risk and revenue from dry bulk vessels. Strong cash flow generation from long-term charters helps to balance the company's market risk. Navios Maritime Holdings (NM) has a 18% limited partner interest in NMM.
Other players in the container market include Diana Shipping (DSX) and Seaspan (SSW). The SPDR S&P 500 ETF Trust (SPY) represents the broader transportation industry.
Article continues below advertisement
Since its foray into the container sector, Navios Partners has invested $540.5 million in eight vessels with a total capacity of 63,508 TEU (twenty-foot equivalent units) and an 8.8 year-average charter period. Navios Partners entered the market with an attractive EBITDA (earnings before interest, taxes, depreciation, and amortization) multiple of 6.9x, and its estimated annual EBITDA generation stands at $78.1 million.
Currently, the containers account for 43.7% of expected EBITDA, 41.3% of total tangible assets, and 67.7% of contracted revenues. Navios Partners believes that containers will represent more than 40% of expected EBITDA in 2015.
New vessel profitability
With MSC Cristina, its newly acquired container vessel, Navios Maritime Partners expects to generate $18.4 million in annual EBITDA and $217.8 million in aggregate EBITDA over the duration of the contract. The vessel acquisition will have no residual value exposure, except profitability, upon completion of the initial charter. Once the charter expires, the vessel will have ten more years of useful life remaining.
The container acquisition will be financed using about $81 million in debt from NMM's balance sheet. The debt-financing transfer has an amortization profile of 13.4 years with a London Interbank Offer Rate, or LIBOR, interest rate of 2.75% and maturity until 2022.