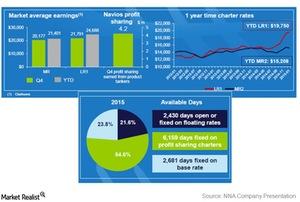 Navios Maritime Acquisition profit sharing, cash, and dividends
By Katie Dale

Dec. 4 2020, Updated 10:53 a.m. ET
Strong liquidity and debt maturities
Navios Maritime Acquisition (NNA) recorded total liquidity of $101.2 million at the end of 2014, including $61.2 million in cash. Cash and cash equivalents at the end of 2014 declined to $54.5 million, down from $82.8 million at the end of 2013. This is mainly because of a decrease in net cash provided by financing activities, down to $41.4 million at the end of 2014 from $363.3 million at the end of 2013.
Here's a quick look at the cash-flow growth recorded by the company's peers:
The PowerShares DB Oil Fund ETF (DBO) tracks the performance of crude oil.
Article continues below advertisement
In keeping with Navios Group policy, Navios Acquisition locks in secure cash flow with credit-worthy counterparties. In 2014, the company chartered out its VLCCs (very large crude carriers) with a total of 5.25 years of coverage. Its product tankers had 8.9 years of coverage, and its chemical tankers, two years.
Meanwhile, NNA has no significant debt maturities until the fourth quarter of 2021 and expects amortization to continue declining naturally. Considering its vessels on the water, Navios Acquisition believes it should enjoy a cash flow benefit during that time frame.
Profit sharing captures market upside
Navios Acquisition's strategy is to capture market opportunity by developing a dependable cash flow from a diverse group of first-class charters for a period of at least one year.
In 2014, the company earned $6.7 million from profit sharing. Of this, $4.4 million was earned in the fourth quarter. Navios's strategy has allowed the company to capture increased profits during strong charter markets and to develop relatively stable cash flows from longer-term charters.
Dividends
Navios Acquisition announced a 4Q 2014 dividend of $0.05 per share, to be paid on April 2, 2015, to shareholders of record as of March 18, 2015. For the full-year 2015, the company expects to pay dividends of $15.7 million.
The launch of Navios Midstream in November 2014 gave Navios Acquisition flexibility and liquidity, while also providing a new platform in the deadweight sector for dividend-seeking investors. From the company's perspective, Navios Midstream is a natural home for certain NNA assets that the company develops to the point where they provide attractive long-term returns.