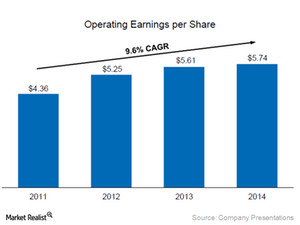 MetLife's return on equity within target range
By Sean Millard

Feb. 25 2015, Updated 6:21 p.m. ET
Operating earnings and EPS
MetLife has seen close to 10% cumulative annual growth rate in its earnings per share (or EPS). Compared to this, the company saw an operating earnings growth rate of 12.1% between 2011–2014. This could be attributed to dilution of share count.
MetLife's earnings per share, which includes non-operating elements, saw a significant increase from $2.91 per share in 2013 to $5.42 per share in 2014. Such volatility is due to sharp variations in the derivative gains and losses and tax provisions in the two periods. However, as we can see in the chart above, operating earnings, a better measure for business performance, grew consistently in these years.
However, low yields are challenging the operating earnings for life insurers like MetLife (MET), Prudential Financial (PRU), Aflac (AFL), Principal Financial (PFG), and other insurers being held by the Financial Select Sector SPDR ETF (XLF).
Article continues below advertisement
Operating return on equity
In 2013, MetLife achieved the lower end of its operating return on equity target range of 12–14% set in 2012. The figure in 2014 was a shade lower at 12%, when compared to the previous year, although very much within the range.
MetLife's return on equity evolution shows recovery from 2008–2009 levels, although it has yet to reach that of the pre-crisis periods. Average return on equity was at 11.2% between 2000–2014, as shown in the above chart, while it averaged close to the bottom end of the 2016 target in the last three years.
Taking note of MetLife's growing operating earnings, let's look at how MetLife is rewarding shareholders with dividend payments.