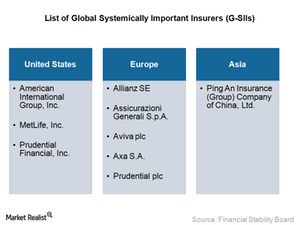 MetLife is designated as a G-SIFI
By Sean Millard

Mar. 6 2015, Updated 11:05 p.m. ET
Overview
MetLife (MET) was announced as a G-SIFI (Global Systemically Important Financial Institution), along with its US insurance peers AIG (AIG) and Prudential Financial (PRU). The G-SIFI designation was brought about to address the problem of "too-big-to-fail" financial institutions in the wake of the credit crisis, to have a stable capital standard and supervisory framework for insurers.
Insurers who are given a G-SII (Global Systemically Important Insurer) designation will be under the regulatory oversight of the Federal Reserve's Board of Governors.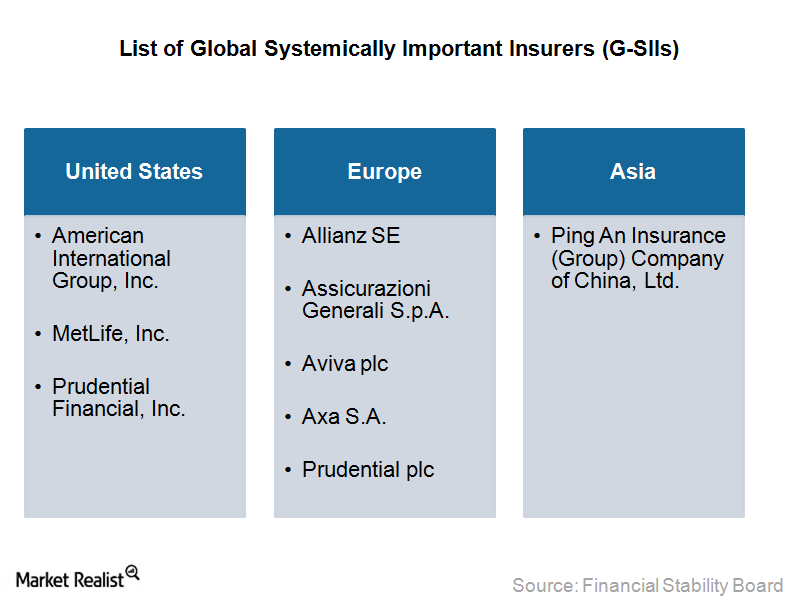 Apart from insurers, several banks and non-banking financial companies included in the Financial Select Sector SPDR ETF (XLF) are given the G-SIFI designation.
Article continues below advertisement
Impact
The G-SII designation requires an insurer to follow three measures. Firstly, each G-SII must undertake recovery and resolution planning to manage situations of crisis. Each G-SII must develop a systematic risk management plan and enhanced groupwide supervision.
A G-SII must also fulfill higher loss absorbency requirements for activities that are nontraditional and noninsurance in nature. Furthermore, for such businesses, an insurer needs to maintain capital of the highest quality. This will increase the costs of the company in several ways.
For more information on capital regimes, please read our Investor's guide to the insurance business.
Litigation
MetLife asked for a review of the G-SIFI designation by the federal court. The company also stated that different regulatory standards with respect to its non-SIFI peers will put it at a disadvantage from a competitive standpoint.
In our final article, we will discuss how an investor can gain exposure to the insurance sector through ETFs like the Financial Select Sector SPDR ETF (XLF) and the iShares US Financials ETF (IYF).