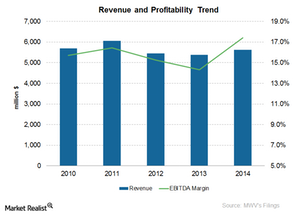 MeadWestvaco sales up $0.2 billion, cost savings on track
By Santiago Solari

Feb. 6 2015, Updated 1:54 p.m. ET
Key overview of MeadWestvaco
MeadWestvaco (MWV) is one of the largest packaging companies in the world, with operations stretching across 100 countries. The company's operations can be categorized into five segments. Three of these are in its core packaging business:
Food & Beverage – 57% of fiscal 2014 revenues
Home, Health & Beauty – 14% of fiscal 2014 revenues
Industrial – 10% of fiscal 2014 revenues
And, there are two other segments labeled as non-core due to limited synergies with the core businesses. Nevertheless, activist hedge fund Starboard Value attributes value to these lines:
Specialty Chemicals – 18% of fiscal 2014 revenues
Community Development & Land Management – 1% of fiscal 2014 revenues
Article continues below advertisement
Solid operating results driven by continued momentum in packaging and specialty chemicals segments
For the full-year 2014, sales were $5.6 billion, up from $5.4 billion in 2013. The increase in sales was helped by gains in volume, pricing, and shares in the packaging and specialty segments.
Operating profitability, as measured by EBITDA (earnings before interest, taxes, depreciation, and amortization) margin increased by 250 basis points to 17.4% in fiscal 2014. The margin improvement was due to the combined effect of revenue growth and cost reductions.
The company realized cost savings of $85 million for the full year as a result of its corporate overhead reduction plan and through simplification of the packaging business structure. Nevertheless, this was short of the company's targeted cost savings of ~$150 million.
Net income from continuing operations, excluding restructuring charges and other non-recurring expenses, was $317 million, or $1.85 per share, compared to $185 million or $1.03 per share in fiscal 2013.
Investing in MeadWestvaco