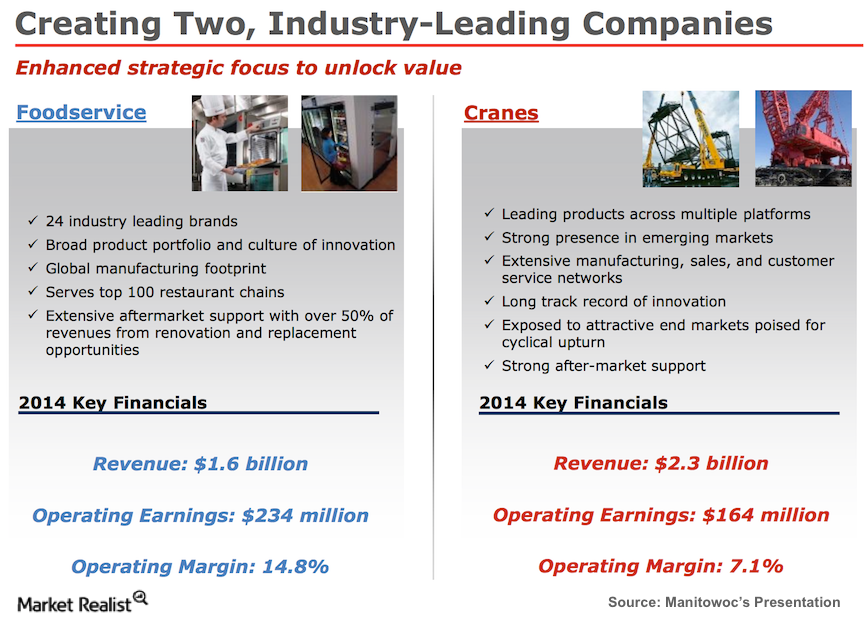 How does Manitowoc view the split?
By Diana Key

Dec. 4 2020, Updated 10:53 a.m. ET
Manitowoc to separate its businesses
On January 29, Manitowoc (MTW) announced its plan to separate its cranes and foodservice businesses into two independent, industry-leading companies with distinct enterprise strategies. This announcement came with the earnings call for full-year and fourth quarter 2014 results. In previous parts of the series, we discussed an overview of Manitowoc and its full-year and fourth quarter 2014 results.
The separation will be a tax-free spin-off of the company's foodservice business. The company will distribute all shares of the new foodservice company to then-current shareholders of Manitowoc.
Article continues below advertisement
MTW's CEO, Glen Tellock, noted, "Manitowoc has taken and continues to take actions to enhance returns, including margin expansion initiatives, re-investment in its businesses, and utilization of its free cash flow to de-lever its balance sheet. It believes the separation of Cranes and Foodservice will position these businesses to take advantage of anticipated long-term improvement in demand and other opportunities in their respective markets."
Manitowoc also noted other strategic benefits of the separation:
individual strategies to cope with the market conditions applicable to their own business
ability to attract a long-term investor base that is appropriate for the operational and financial characteristics of the separate entities
ability for investors to track each company separately
flexibility for each business to pursue distinct capital structures and capital allocation strategies to meet the individual needs of each business
MTW expects these two newly formed companies to be consistent in capital structure and credit rating with that of Manitowoc. The company expects to complete the spin-off in the first quarter of 2016. The spin-off is subject to customary closing conditions and confirmation of its tax-free nature. Goldman Sachs (GS) is serving as a financial advisor to the company.
Recent spin-offs
Recently, spin-offs are gaining momentum. Vornado Realty Trust (VNO) spun off its subsidiary Urban Edge Properties (UE). Plus, Occidental Petroleum (OXY) spun off its subsidiary California Resources Corporation (CRC) to increase shareholder value.
You can gain exposure to spin-offs by investing in the Guggenheim Spin-Off ETF (CSD). This ETF tracks companies that have spun off within the past 30 months.
In the next part of the series, we'll learn about Manitowoc's cranes business.