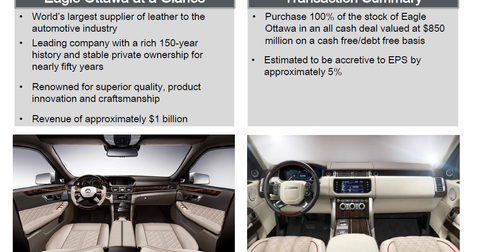 Lear's seating segment will benefit from Eagle Ottawa acquisition
By Santiago Solari

Updated
Steady demand for leather in vehicles is likely to continue
Typically, automakers source leather directly due to the role leather plays in differentiating a brand in the minds of consumers. Also, since premium vehicles often utilize leather, supplying it to automakers is a high margin business.
In part five of this series we saw that with the recovery from the downturn, demand for larger vehicles such as SUVs and luxury cars has picked up. As a result, Eagle Ottawa's revenues have been on a four-year growth trajectory, increasing at a CAGR (compound annual growth rate) of 24% from 2011 to 2014, compared to industry production growth of 5% in the same period. According to JD Power's estimates, leather content in vehicles is likely to remain in high demand in the medium term.
Article continues below advertisement
 The acquisition strengthens Lear's seating business
Acquiring Eagle Ottawa not only helps Lear in terms of generating incremental sales, it also puts downward pressure on certain production costs and is set to improve the company's margin profile by 20 bps (or basis points), as consumers are willing to pay extra for high quality, value-added products. Cost and margin benefits will likely result from the complementary and synergistic relationship Eagle Ottawa has with Lear's seating segment.
Eagle Ottawa's business complements Lear's fabric and cut-and-sew offerings by providing unique styling options without any compromise to quality and craftsmanship. Together with Lear's acquisition of Guilford back in 2012, the company stands to strengthen its position as the industry leader in luxury and performance seating.
Article continues below advertisement
Transaction details and impact on Lear's financials
Lear completed the Eagle Ottawa acquisition on January 5, 2015, in an all-cash transaction worth $850 million or ~6.0x Eagle Ottawa's leading EV/EBITDA multiple, excluding synergies. Lear funded the deal through borrowing $500 million in term loan and issuing $650 million in senior unsecured notes. The increased debt level did not damage Lear's leverage profile, which remained below the target 1.5x EBITDA.
Lear expects the deal to be accretive by ~5% to EPS, excluding synergies. Within the next two fiscal years, Lear expects to realize ~$20 million of annual operating synergies, excluding incremental sales opportunities.
Lear (LEA) has an allocation of 1.40% in the First Trust Consumer Discretionary Alpha Fund ETF (FXD) and a 0.30% portfolio weight in the Vanguard Consumer Discretionary ETF (VCR). The VCR ETF also has an allocation of 1.92%, 1.53%, and 1.10% in Ford Motor (F), General Motors (GM), and Johnson Controls (JCI), respectively.