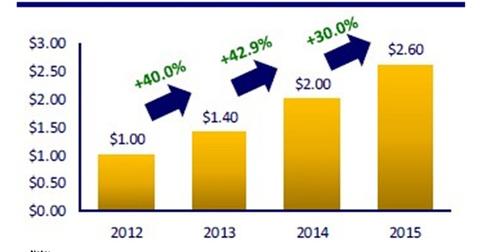 Las Vegas Sands beats S&P 500 on forward dividend yield
By Shawn Bolton

Updated
Capital return commitment
Las Vegas Sands (LVS) remains committed to return capital to shareholders via share repurchases and its recurring quarterly dividend program. In this part, we'll discuss LVS's dividends payments to its shareholders.
Article continues below advertisement
Recurring quarterly dividends
Las Vegas Sands (LVS) paid a recurring quarterly dividend of $0.50 per common share during the fourth quarter of 2014. This is an increase of 42.9% compared to the fourth quarter of 2013.
The company also announced that its next recurring quarterly dividend of $0.65 per common share will be paid on March 31, 2015, to its shareholders of record on that date. This dividend would represent an increase of 30% compared to the dividend paid in the first quarter of 2014.
LVS's board of directors raised the company's 2015 annual dividend to $2.60 per share, an increase of 30% over 2014.
In the fourth quarter of 2014, LVS returned a total of $635.3 million to its shareholders. Of that amount, ~$400 million was returned to the shareholders through recurring dividends.
Melco Crown Entertainment (MPEL) has started paying dividends from last year. Wynn Resorts (WYNN) has been paying dividends regularly since 2006. ETFs such as the Market Vector Gaming ETF (BJK) has ~19% exposure to these companies, including LVS.
Dividend yield and sensitivity 
The above chart shows that Las Vegas Sands (LVS) has a greater forward dividend yield compared to the broader market index such as the S&P 500 (SPY). As of January 27, 2015, LVS's 2015 forward dividend yield was 4.6% against SPY's 2.1%.
This dividend yield of 4.6% is based on LVS's share price of $56.80. The dividend yield will decrease when LVS's share price increases and vice-versa, according to the sensitivity analysis of its dividend yield as shown in the above chart.