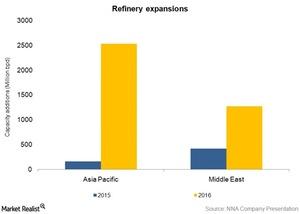 Very large crude carrier demand from Asia on the uptrend
By Katie Dale

Feb. 27 2015, Published 4:11 p.m. ET
Refinery expansion
Led by refinery expansions in Asia and the Middle East, VLCC (very large crude carrier) demand is rising according to Navios Maritime Acquisition (NNA). As the Middle East refines more crude, there will be less crude available for export. With new refineries being built in the Far East, crude oil could be sourced from further away, which would drive VLCC demand even higher. Led by economies of scale over long distances, crude is more likely to be shipped via VLCC.
Article continues below advertisement
Ton mile development
Volumes shipped from West Africa and South America require more ships due to the longer trade distance. In terms of ton miles, crude transportation to China from these ports uses as many VLCCs as transportation from the Arabian Gulf.
The Arabian Gulf shipped 1.8 times more oil to China in 2014. Looking ahead, the growth in VLCC ton miles is expected to continue. China will import more crude from Venezuela, Brazil, and West Africa, diversifying its sources of oil rather than offsetting any decline in US imports.
This would support companies such as Teekay Tankers (TNK), Tsakos Energy Navigation (TNP), Scorpio Tankers (STNG), and Capital Product Partners (CPLP).
The iShares China Large-Cap ETF (FXI) tracks publicly traded companies in China.
As well, Indian companies have secured crude oil from Brazil to replace existing Iranian supplies, increasing VLCC ton mile demand. With marginal growth in oil demand, distance has been a key driver in tanker demand.
VLCC supply
With the crude oil market experiencing a contango situation, ship owners are experiencing the added benefit of reducing vessel supply and raising time-charter rates. In the 2008 to 2010 period, many VLCCs were chartered for floating storage. In fact, 8% of the global fleet, or 50 VLCCs, are being used this way currently. For more on contango, read Crude oil contango and offshore storage.
In 2014, VLCC non-deliveries equalled 25%, as 7.6 million deadweight tons were delivered out of a projected 10.2 million deadweight tons. Net fleet growth in 2014 equalled 2.1% and continued to slow dramatically due to ongoing, elevated scrapping and non-delivery levels. The higher price of steel has led to more scrapping and renewals. In 2014, 12 vessels of about 3.6 million deadweight tons were removed from the global fleet.