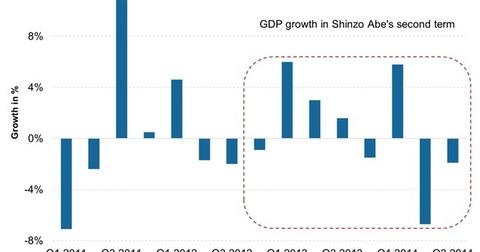 The Japanese Economy Grew In 4Q14, Mainly Due To Exports
By Heidi Richardson

Updated
The victory now gives him a fresh, four-year mandate to implement his pro-growth policies, known as Abenomics, at a time when the country has slipped back into recession and struggles to escape deflation. It is also a clear message to the spending hawks in Japan's Lower House (or Diet), who are looking to tame the nation's astronomical debt sooner rather than later.
Article continues below advertisement
Market Realist – The Japanese economy grew in the fourth quarter, mainly due to exports.
The graph above shows the GDP (gross domestic product) growth rate in Japan (EWJ)(DXJ) since 2011. As you can see, the growth rate has been quite sluggish over the last few years. Out of the last 15 quarters, Japan recorded negative growth eight times.
The highlighted part shows the growth rate since the start of Abe's second stint as prime minister. 2Q14 saw the growth rate slip to an annualized rate of -6.8%, mainly due to the hike in the consumption tax during that quarter. However, Japan's GDP increased by 2.2%, fueled by exports, in 4Q14. This is well below 3.6% that economists expected.
The worst is over for the Japanese economy in the near term, economists say. However, Abe still faces a difficult hurdle of wage growth along with inflation. While Japan is an export-driven economy, it needs to instill confidence in consumers, as consumption accounts for around 60% of the economy.
Market Realist – Lower oil prices have led to a dip in Japanese inflation.
The graph above shows the inflation rate based on the CPI (consumer price index). Japan has been facing deflationary pressures for decades. Deflation is bad for any economy. It's caused by a lack of demand and therefore lower or negative GDP growth.
Since Abe arrived on the scene, he has tried to create inflation through easy money. This has led to the depreciation of the yen, which has increased import prices, leading to inflation.
However, inflation has dipped in the last few months, mainly because of the slump in oil (USO) prices. Japan is a net importer of oil. In fact, lower oil prices have caused inflation to dip in other economies as well. The US (SPY)(IVV) inflation figure for January came in at -0.1%, mostly due to lower oil prices.