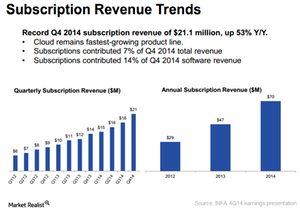 Informatica targets 'billion dollar' cloud integration market
By Samantha Nielson

Updated
Informatica posts robust 4Q results that beat estimates
Informatica said its strong 4Q results were proof "of an improving sales productivity." Total revenue for 4Q grew 10% to $303.74 million, from $276.04 million in the same quarter last year. Profits grew 9% to $43.6 million, from $39.9 million in the fourth quarter of 2013. Non-GAAP (generally accepted accounting principles) net income per diluted share, excluding special items, was $0.56, up 14% year-over-year. Both earnings and EPS (earnings per share) beat analyst estimates.
Article continues below advertisement
Informatica revenues are categorized according to software revenues and service revenues. Under software, it generates revenue from sales of software licenses and subscription-based licenses. It derives service revenues from maintenance contracts, consulting services, and education services for customers that license its products either directly or indirectly.
Software revenue driven by growth in subscription revenues
Software revenues were $150.2 million, an increase of 12% from $134.6 million in the fourth quarter of 2013. Within software revenues, license revenues were $129.2 million, up 7% year-over-year, and subscription revenues were $21.1 million, up 53% year-over-year.
Service revenue grew 9% year-over-year to $153 million. Maintenance revenues were up 9% and consulting and education services were up 8%. Informatica says its total revenues were negatively impacted by currency fluctuations.
Management highlighted initiatives to grow its subscription business, which consists of existing cloud and data-as-a-service businesses.
Plans to expand its cloud ecosystems
As discussed earlier, Informatica is investing to capitalize on the "four distinct billion dollar market opportunities" of cloud integration, master data management, data integration for next-generation analytics, and data security. In terms of cloud computing, it said its "subscription mix" has grown more than three times, from 4% of software revenues in 2010 to 15% in 2014.
Informatica said that around 80% of its cloud subscription revenues have been generated in the cloud ecosystem Salesforce.com (CRM) and the operational data integration cloud service. It disclosed plans to grow its cloud ecosystems to Amazon Web Services (AMZN), NetSuite (N), Workday (WDAY) and Microsoft (MSFT) Azure.
More on Informatica's outlook in the next part of this series.