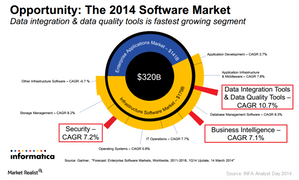 Informatica eyes market in big data and the Internet of Things
By Samantha Nielson

Nov. 27 2019, Updated 6:37 p.m. ET
Subscription business growth catalysts
Informatica growth initiatives include its intelligent data platform, Secure@Source, and Informatica Rev, its cloud data preparation product, previously code-named Project Springbok.
In December, the company expanded its partnership with Tableau Software (DATA) to broaden the reach of Informatica Rev. The company said the move will "deliver greater value to a broad set of business users in the area of self-service analytics."
Informatica believes its long-term growth depends on the "four distinct billion dollar market opportunities" of cloud integration, master data management, data integration for next-generation analytics, and data security.
Article continues below advertisement
Growth trends: Big data and Internet of Things
Informatica is looking to big data and Internet of Things (IoT) trends to drive future growth. A company blog post notes that the intelligent data platform and newly introduced Informatica Rev product "can truly connect data coming from all sources, including IoT devices and make it available for everyone." Last year, the company disclosed its vision for an intelligent data platform, "a next-generation platform that will fuel businesses, devices and people with the right data at the right time."
As shown in the chart above, the platform is made up of three elements:
Informatica's Vibe virtual data machine
data infrastructure – the data infrastructure layer continuously delivers clean, safe and connected data on any scale—departmental to enterprise, transactional to big data, on-premise or in the cloud
data intelligence – the data intelligence layer enables customers to repurpose pre-existing metadata created by the data infrastructure layer for greater visibility, better decision-making and operational intelligence
In November, the company announced it had gone "all in" on Amazon Web Services, or AWS, and is moving to have Amazon's (AMZN) cloud provide its underlying infrastructure. It revealed plans to broaden connectivity to AWS and support new-use cases related to IoT, mobile, customer behavior, security, and fraud detection.
Informatica: A market leaders in iPaaS
Information research and technology advisory company Gartner ranked Informatica a leader in its integration platform as a service (iPaaS) Magic Quadrant. Peers also in the quadrant include IBM (IBM), SAP (SAP), and Fujitsu.
Gartner said Informatica's "Balanced emphasis on business-user-oriented functionality and data integration infrastructure as organization standards resonate with enterprise-level needs. Portability of integration flows between Informatica Cloud and PowerCenter enables flexible deployment in cloud-based and hybrid usages."