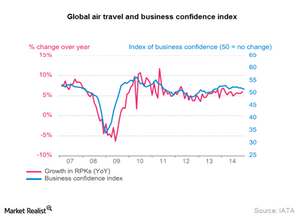 IATA Airline Business Confidence survey shows upward growth trend
By Teresa Cederholm

Updated
January's business confidence survey
Every quarter, IATA (or the International Air Transport Association) conducts a survey of airline CFOs and heads of cargo to analyze their views on the industry's performance in the latest quarter. The Airline Business Confidence Index survey also collects their expectations for the industry in the next 12 months.
In IATA's January survey, the respondents noted that despite rising concerns about global economic growth, air travel industry profitability will continue to grow, supported by declining input costs and growth in traffic, in the next 12 months. The financial performance of global carriers improved during the second half of the year after remaining flat in 2Q14. Global air travel demand has been moving along the trend in the business confidence index as shown in the graph below.
Article continues below advertisement
Key results
The results of the survey are important indicators of future performance of the industry, as they reflect the views of industry experts.
More than 70% of the respondents expect a rise in passenger and cargo traffic in the next 12 months.
Due to increased supply of crude oil a stronger US dollar, input costs for airlines declined considerably in 2014. Plus, 68% of the respondents expect a further decline in input costs, 20% expect it to remain unchanged, and the rest expect a rise in input costs.
Yield declined at a faster rate in 4Q14 compared to 3Q14. According to 48% of the respondents, yield is expected to continue the same trend, reflecting the expected decline in fuel-related costs. Around 47% of the respondents thought cargo yield also will remain unchanged in the next 12 months, and 35% of the respondents thought cargo yields might decrease. In the fourth quarter, as cargo demand improved, yield declined at a comparatively slower pace.
Employment activity remained unchanged in 4Q14 compared to the previous year, and 44% of the respondents expect employment to remain the same in the next 12 months.
ETFs such as the iShares Transportation Average ETF (IYT) and the SPDR S&P Transportation ETF (XTN) are positively impacted by growing profitability of US airlines, including Delta (DAL), United (UAL), American (AAL), Alaska (ALK), Southwest (LUV), and JetBlue (JBLU). US airlines continue to outperform peers in other regions.