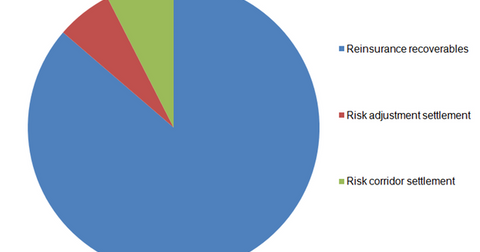 Humana reacts to a premium stabilization program in 4Q14
By Margaret Patrick

Updated
Premium stabilization
The ACA (Affordable Care Act) requires that private health insurers not deny coverage or charge higher premiums to people with pre-existing conditions. This requirement exposes the private health insurance industry (XLV) to high risk. It can lead insurers to adopt measures that attract only healthy enrollees. To avoid this approach, the ACA has introduced a premium stabilization program as a risk management mechanism for health insurance companies. The program involves three sub-programs—risk adjustment, reinsurance, and risk corridors—the 3R Program.
Article continues below advertisement
The above graph shows the breakup of Humana's recoverables from the premium stabilization program, amounting to $679 million. The company is adopting pricing strategies to limit its dependence on premium stabilization and projects that net receivables in 2015 will reduce and be in the range of $275 million to $350 million.
Reinsurance
Unlike Aetna (AET), Cigna (CI), and UnitedHealth Group (UNH), Humana's (HUM) business model is more inclined towards old and sick people. Reinsurance is a temporary program from 2014 to 2016, initiated by the ACA, that transfers funds collected from all insurers to individual insurance plans with high-cost enrollees. Humana (HUM) recorded reinsurance receivables of $586 million in 2014.
Article continues below advertisement
Risk adjustment
The risk adjustment program is a permanent program, applicable to individual and small group plans and implemented in 2014 to prevent health insurers from selecting only healthy people as enrollees. The program avoids this tendency by transferring funds from plans with lower-risk enrollees to plans with higher-risk enrollees. Humana registered $42 million as net receivables in the risk adjustment program in 2014.
Risk corridors
The risk corridor program attempts to protect health insurers selling plans on public exchanges from extreme gains and losses. Plans sold on public exchanges, also called QHPs (qualified health plans), receive a target amount for costs. If the actual claim costs of the QHPs vary greater than 3% above or below the target amount, the plan will either receive or pay funds to the risk corridor program. Humana reported $51 million as net receivables in the risk corridor program.