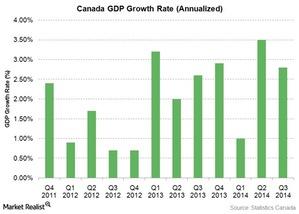 Growth contracts in Canada, loonie slips some more
By Surbhi Jain

Feb. 12 2015, Updated 11:06 a.m. ET
Economic growth in Canada
On January 30, 2015, Statistics Canada released November's economic data that were worse than expected. Gross domestic product, or GDP, a key measure of growth in an economy, contracted by 0.2% in Canada for the period between October 2014 and November 2014. This, compared to the 1.9% growth in GDP recorded a year earlier over the same period, reflects the deteriorating state of the Canadian economy.
The data caused the Canada-tracking iShares MSCI Canada ETF (EWC) to dip by 0.53%. The EWC is mainly invested in companies such as Suncor Energy (SU), Valeant Pharmaceuticals International (VRX), Royal Bank of Canada (RY), Toronto Dominion Bank (TD), and Bank of Montreal (BMO).
Article continues below advertisement
What's dampened growth in Canada
Slowing growth in Canada is mainly a result of a struggling manufacturing sector, which declined by 1.9%. As well, the mining, quarrying, and oil and gas extraction sector growth retreated by 1.5%. Utilities were the saving grace for overall GDP growth in Canada, recording 2.4% month-over month growth in November 2014, while retail trade added another 0.9% growth.
According to Statistics Canada, GDP in Canada rose by 0.3% in October 2014, starting the economy's fourth quarter on a positive note. However, since then, a major decline in the price of oil has had a profoundly negative impact on the economy, which is a prominent energy producer. The fourth-quarter GDP figures for Canada will be out on March 3, 2015.
Contraction sends the loonie farther down
Declining growth in Canada caused the Canadian dollar, or loonie, as it's commonly known, to depreciate further. The Canadian currency hit a low of 78.5 cents per Canadian dollar on January 30, 2015, according to XE.com. The historic currency low is 66.15 cents per Canadian dollar, which was reached in October-end 2000.
Current valuations for the Canadian dollar aren't far from its historic lows! Could this have greater implications for the Canadian economy? Read on to find out.