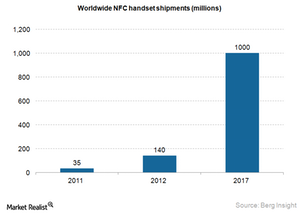 Google may acquire Softcard to upgrade Google Wallet
By Puneet Sikka

Updated
Increased adoption of Apple Pay will also help Google
In the previous two parts of this series, we covered the growth potential of, as well as the challenges with, Apple's (AAPL) Apple Pay service.
Similar to Apple Pay, Google's (GOOG)(GOOGL) mobile payments solutions is called Google Wallet. Google Wallet is a system that allows you to store credit and debit card details and make payments by simply tapping your mobile phone on any PayPass terminal at checkout.
Article continues below advertisement
Google Wallet has failed to gain mass adoption because retailers have resisted upgrading their systems to be compatible with near field communication, or NFC, technology. But Apple Pay also uses NFC technology. And since it's Apple, retailers have started to adopt NFC. Increased adoption of the NFC technology will also be a boost for Google and its Google Wallet service.
According to a report from Berg Insight, and as the chart above shows, NFC handset shipments grew from 35 million in 2011 to 140 million in 2012. This could grow to as many as 1 billion by 2017 at a compound annual growth rate, or CAGR, of 48%.
Google looks to improve its mobile payments service
Despite the indirect benefit that Google will get from Apple Pay's increased adoption, it's still looking to improve its own service. According to a report from the Wall Street Journal that cites people familiar with the matter, Google is in talks to acquire Softcard. Softcard is a mobile payments company—a joint venture backed by telcos such as Verizon (VZ), AT&T (T), and T-Mobile (TMUS). The report notes that eBay's (EBAY) PayPal showed interest in buying Softcard as well.
Softcard has some attractive features for Google. It offers support for payments through large financial institutions such as American Express (AXP) and Wells Fargo (WFC). Plus, Softcard will help Google improve its relations with telecom companies with which it shares mobile ad revenues.