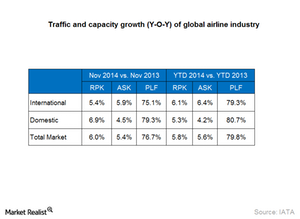 Domestic market growth drives November global air traffic growth
By Teresa Cederholm

Nov. 19 2019, Updated 7:40 p.m. ET
Traffic, capacity growth in global airline industry
In November 2014, the global air travel volume increased by 6%, which is higher than the ten-year average growth rates of 5.6% and 5.7% recorded in the previous month. Capacity increased by 5.4%, 0.1% lower than in October. On a year-to-date basis, traffic and capacity increased by 5.8% and 5.6%, respectively.
Demand growth and load factor rose in the domestic market, while capacity growth was higher in the international market. Domestic demand was driven mainly by growth in Chinese air travel.
Article continues below advertisement
The rate of traffic growth in the international market (5.4%) slowed as a result of easing global business confidence. International traffic growth is below the long-run average of 6.3%, mainly due to lower traffic in African and Asian carriers. However, global traffic growth is expected to be positively impacted by the fall in oil prices, which should accelerate economic activity. Details on regional international and domestic passenger traffic growth in November is provided in Parts 3 through 5 of this series.
Load factor
Even load factor was higher in the domestic market (79.3%), compared to international markets (75.1%). The overall growth in demand was higher than supply during the month and for the year to date. In November 2014, the overall load factor was 76.7%, driven by higher load factors in North America and Latin America. A higher rate of growth in demand measured against supply is positive for the industry, resulting in better utilization of existing seats. This led to a higher load factor, improving cost efficiency and leading to increased profitability. 
Article continues below advertisement
Yield remains weak
Apart from traffic, airline revenue is also impacted by the rise or fall in yield (or average fare paid per passenger per mile). Although global yield remains weak due to weakness in Asia and exchange rate fluctuations, US passenger yield continues to improve with a 2% year-over-year growth in November. Although demand drivers remain strong, the fall in crude oil prices could result in lower yields in 2015.
Yield and load factor also determine an airline's profitability. Airlines in the US, including Delta (DAL), American (AAL), United (UAL), Southwest (LUV), and JetBlue (JBLU), recorded higher profitability in 2014. Investors can gain exposure to US airline stocks through ETFs such as the iShares Transportation Average ETF (IYT) and the SPDR S&P Transportation ETF (XTN).