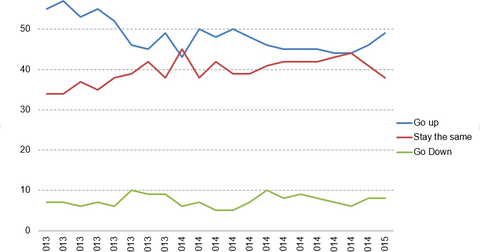 Fannie Mae's survey – real estate prices are expected to increase
By Brent Nyitray, CFA, MBA

Nov. 27 2019, Updated 7:12 p.m. ET
Consumers are becoming more bullish on real estate
For most US citizens, their primary residence is their biggest asset. As a result, their spending patterns are highly levered to housing. During the housing bubble, many homeowners monetized home price appreciation. They used it to fund consumption. The cash-out refinance and the home equity lines of credit were common ways for Americans to increase their consumption without increasing their wages.
Article continues below advertisement
In fact, wages have been stagnant for quite some time, especially for the middle class. Home price appreciation and home equity extraction masked the economic effects of stagnant wages. It wasn't until home price appreciation went away and consumption fell that the problems with slack wage growth became apparent.
Perceptions about future home prices
Over the past year, the percentage of people who think home prices will increase grew from 43% to 49%. Month-over-month, this number was up 3%. The number of people who expect home prices to drop was flat at 8%.
Finally, the number of people who think home prices will stay the same decreased from 45% to 38% year-over-year, or YoY. Interestingly, consumers are way more bullish about rental prices than house prices. Rental price inflation has been picking up.
Implications for real estate companies and REITs
Bullishness on house prices affects REITs in a number of ways. For the big agency REITs—like Annaly Capital (NLY), MFA Financial (MFA), and American Capital Agency (AGNC)—bullishness usually translates into more activity. This means more sales and ultimately higher prepayment speeds. Increasing real estate prices can be positive for non-agency REITs. However, it can be negative for agency REITs.
For real estate companies—like Colony Financial (CLNY) and NorthStar Realty Finance (NRF)—higher prices mean less defaults.