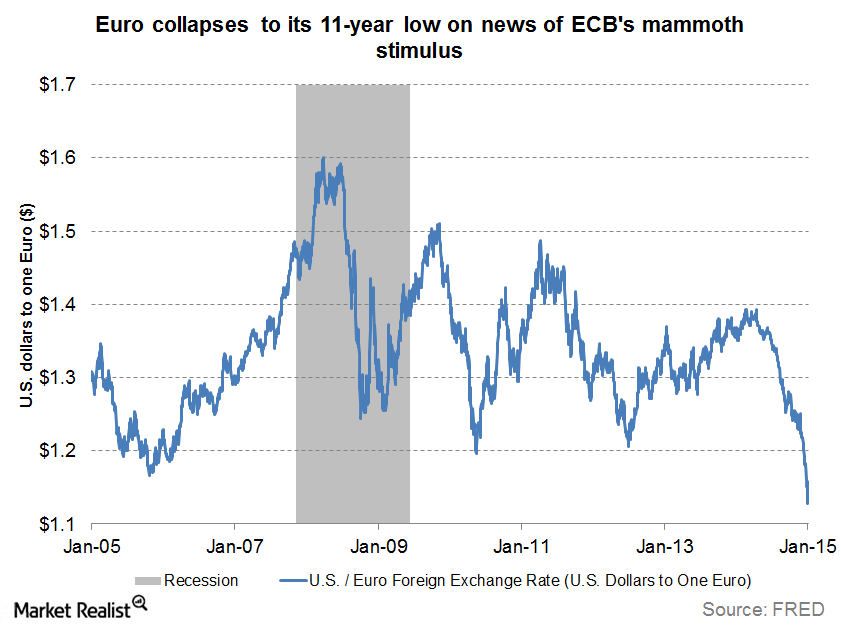 European Euphoria Captured Markets Last Week
By Russ Koesterich, CFA

Nov. 20 2020, Updated 5:16 p.m. ET
The ECB took definitive action against deflation fears with a broad asset purchase program that impressed the markets. Here is a quick analysis of its impact on stocks and bonds beyond the short term.
The European Central Bank's (or ECB's) new €1-trillion-plus asset purchase program arrived last week and did not disappoint. As I write in my weekly commentary, stocks advanced on the news of quantitative easing (or QE), and international markets in particular got a big boost from the event.
Market Realist –
Article continues below advertisement
European euphoria captured markets last week – ECB's stimulus spurred rallies
Stock markets spelled hallelujah as the ECB announced a larger-than-anticipated asset purchase program last week. The US markets, which had been languishing under a string of three consecutive weekly declines, closed the week ended January 23, 2014, with solid weekly gains. The Dow Jones Industrial Average (DIA) increased 0.9% to close the week at 17,672. The S&P 500 (SPY) (IVV) charted weekly gains of 1.6% to close at 2,051. The NASDAQ (QQQ) closed the week up 2.7% at 4,757. The dollar (UUP) registered its highest level against the basket of major currencies since 2003. The euro on the other hand, fell to its 11-year low. The fall of the euro can be seen in the graph above.
European euphoria captured markets in Europe and took them by storm. The Stoxx Euro 600 Index surged 5.1% in the week ended January 23, 2015, marking its biggest weekly increase in almost three years. Germany's DAX index and the UK's FTSE Index both closed the week up by more than 4%, while the French CAC Index registered a weekly gain of almost 6%. The previous graph tracks the performance of the iShares MSCI Germany ETF (EWG), the iShares MSCI France ETF (EWQ), the iShares MSCI United Kingdom (EWU), and the iShares MSCI EMU ETF (EZU) so far this year.
Though European euphoria captured markets last week, will this euphoria last? Is ECB's QE initiative too little too late? We'll explore the future of the Eurozone in light of recent events like the Greek elections in this series.