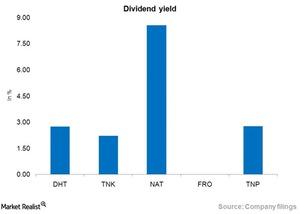 DHT's net cash more than doubles, cash dividend skyrockets
By Katie Dale

Updated
Cash flow from operating and investing
DHT Holdings' (DHT) net cash provided by operating activities for the fourth quarter of 2014 stood at $17.6 million compared to $7.4 million for the fourth quarter 2013. This was led by higher freight rates in the 2014 period and changes in working capital.
Net cash used in investing activities for the fourth quarter of 2014 was $1.6 million related to vessel capital expenses, while the year ago quarter recorded $37.1 million related to predelivery installments for VLCC newbuildings ordered.
Article continues below advertisement
Financing activities
Net cash provided by financing activities for the fourth quarter of 2014 stood at $16.3 million compared to $105.8 million for the prior year period.
Total repayment of long-term debt in the fourth quarter, including the repayment related to the refinancing of the three Samco credit facilities, amounted to $277.8 million. In the fourth quarter of 2013, DHT completed a private placement of shares generating net proceeds of $106.1 million after expenses.
During the fourth quarter 2014, DHT Holdings (DHT) completed the refinancing of three of Samco's four credit facilities with a credit facility generating $295.6 million after expenses and a 50% financing of the DHT Condor. Currently, the company is pursuing debt financing for its last two VLCC newbuildings. The company revealed that it will complete payments for newbuilding vessels in not later than three years.
Cash dividend for 4Q14 skyrockets
DHT Holdings (DHT) declared a cash dividend of $0.05 per common share for the fourth quarter of 2014, payable on February 19, 2015, for shareholders of record as of February 10, 2015. This quarter's dividend is 150% higher than the quarterly dividends paid over the past nine quarters. DHT believes the declared dividend level is sustainable through 2015.
Peers such as Teekay Tanker Ltd. (TNK), Nordic American Tanker Ltd. (NAT), Frontline Ltd. (FRO), and Tsakos Energy Navigation (TNP) recorded dividend yields of 2.22%, 8.55%, 0.0%, and 2.77%, respectively. The Guggenheim Shipping ETF (SEA) recorded a dividend yield of 3.5%.