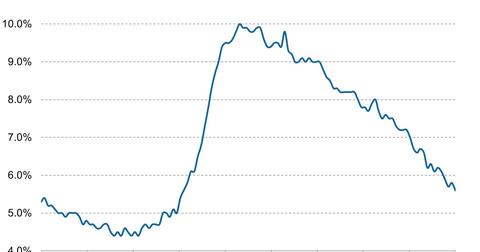 Casinos Await Windfall As US Unemployment Rate Hits 6-Year Low
By Shawn Bolton

Updated
Unemployment rate decreases
The US unemployment rate is reported by the U.S. Bureau of Labor Statistics. The rate measures the number of people, as a percentage of the labor force, actively looking for a job.
Business expansion usually involves the employment of more people. Strong employment rates signal strong economic growth prospects.
In December 2014, the US economy added 252,000 new jobs. In November 2014, it added 321,000 jobs. The Federal Reserve has said that a range of labor market indicators suggest that the underutilization of labor resources is gradually diminishing.
The unemployment rate decreased to 5.6% in December 2014, from 5.8% in November 2014 and 6.7% in December 2013. This is the lowest-recorded unemployment rate since July 2008. The Bureau of Labor Statistics notes that there were 383,000 fewer unemployed persons in December, for a total of 8.7 million.
The Bureau of Labor Statistics also reports that the decline is the result of 252,000 non-farm payroll employment gains, particularly in the professional business services, construction, food services, health care, and manufacturing sectors.
Key takeaways
Better employment rates could drive demand for leisure activities, and increased wages could drive consumer disposable income. This is a positive signal for casino industry growth. Having said that, steady improvements in the labor market make it more likely that the Federal Reserve will raise short-term interest rates.
The casino sector includes companies such as Las Vegas Sands (LVS), MGM Resorts International (MGM), Wynn Resorts (WYNN), and Pinnacle Entertainment (PNK). The VanEck Vectors Gaming ETF (BJK) has holdings in LVS worth ~8.6% of its portfolio.
For more on this industry, visit Casinos and Gaming.