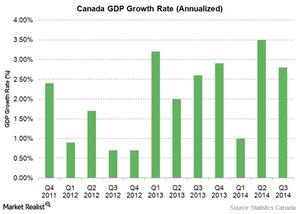 Could Canada be facing a housing bubble?
By Surbhi Jain

Updated
Is Canada a safe haven for your investments?
In our recent series, Is Canada a safe haven for your investments?, we talked about the Canadian economy and whether it's a safe haven. We discussed the strengths of Canada's oil-rich economy and the key challenges it faces. We also analyzed how the economy's prospects were impacted by the central bank's rate cut decision.
We discussed the factors that caused the country's currency to depreciate—namely, the rate cut. We talked about the contraction in gross domestic product, or GDP, as charted below. We also analyzed the expected hike in the federal funds rate in the US and the decline in commodity prices.
Article continues below advertisement
An important revelation that we also dealt with in that series was the inversion in Canada's sovereign yield curve. We gave the US as an example to substantiate our point that an inversion in the sovereign yield curve is usually followed by a recession. In the US, the recession was triggered by the housing bubble.
Canada's soaring real estate prices
The US housing bubble was a result of Americans with the poorest credit being lent money to purchase houses they couldn't afford. It impacted the US economy badly.
Broad market ETFs—like the SPDR S&P 500 (SPY) and the Vanguard Total Stock Market ETF (VTI), real estate ETFs— like the iShares U.S. Real Estate ETF (IYR), and banks—like Citigroup (C) and Bank of America (BAC), all saw their prices slump.
Article continues below advertisement
Should investors in the Canadian-equity tracking iShares MSCI Canada ETF (EWC) or in Canadian banks—like the Royal Bank of Canada (RY), Toronto Dominion Bank (TD), and the Bank of Montreal (BMO)—worry about a similar ripple? After all, the real estate, rental, and leasing industry contributed close to 12.5% of Canada's GDP in 2013.
Residing in Canada is expensive
Interestingly, Canada is one of the most expensive countries to buy a house. It was termed as "seriously unaffordable" by the recent annual Demographia International Housing Affordability Survey. With home prices on cloud nine, especially for cities like Vancouver and Toronto, could the Canadian economy be giving signals of bubble similar to the US housing bubble?
In the next part of this series, we'll discuss what a housing bubble is in more detail.