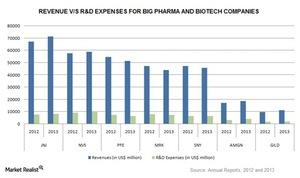 Big pharma invests big money in research and development
By Mike Benson

Feb. 23 2015, Updated 11:06 a.m. ET
Bringing drugs to market
Research and development, or R&D, is likely the most vital part of big pharma. Big pharma has seen huge progress in the last decade due to its research-oriented approach to improving technologies, developing infrastructure, and encouraging research in the biosciences field.
Companies spend a major part of their earnings on the development of new drugs. Statistics show that out of every 10,000 drugs developed, only 100 reach human trials, and barely 10 reach the market. Stringent regulations in the industry have a lot to do with these margins.
Article continues below advertisement
Costs borne by big pharma for R&D
The chart above compares actual spending on R&D by five of the major companies in the US pharmaceutical industry. Johnson & Johnson spends around 11.5% of its total revenues every year on research and development. Novartis AG spends ~16.75%, Pfizer, around 13%, Merck, ~17%, and Sanofi spends ~14% of its revenues on R&D.
Large companies have multiple R&D centers working on different studies. For example, GlaxoSmithKline has large research units in Spain, Belgium, the US, the UK, and China. Teva Pharmaceuticals has research units in India, the US, Europe, Latin America, Israel, and Mexico. Sanofi (SNY) has approximately 20 sites worldwide. And, Novartis (NVS) has research centers at 17 sites worldwide.
Biotechnology companies
Besides in-house R&D centers, pharmaceutical companies also depend on biotechnology companies for licenses of patented drugs. The biotechnology industry is mainly concentrated in the US, Europe, Canada, Australia, and India. Biotech generated approximately $90 billion in revenues in 2011. According to Statista, global spending on biopharmaceuticals is expected to exceed $200 billion by 2016, up from $160 billion in 2011.
Large biotech companies such as Amgen (AMGN) and Gilead Sciences (GILD) spent about 20% of 2013 revenues on R&D. Combined, these companies form 9.43% of the PowerShares Dynamic Pharmaceuticals ETF (PJP).