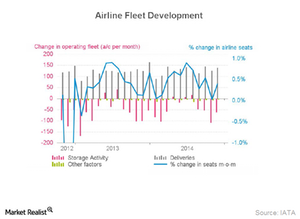 November aircraft deliveries pick up as storage activity declines
By Teresa Cederholm

Updated
Aircraft deliveries in global airline industry
Airlines increase capacity by adding more aircraft to their fleets. In November 2014, available seats increased compared to October, as there was an increase in new aircraft deliveries and a decline in storage activity. There were 139 new aircraft deliveries during the month compared to 126 in October. Plus, only 61 aircraft went into storage compared to 101 in October. Growth in capacity is still lower than the demand growth, leading to improved utilization rates.
Article continues below advertisement
Domestic load factor improves
As aircraft deliveries increased, industry load factor remained constant in November. Although domestic load factors have improved, load factor declined in international markets due to a weak traffic growth. North America, Latin America, and Europe recorded the highest load factors of 79.9%, 79.8%, and 76.9%, respectively—higher than the global utilization rate of 76.7% recorded in November.
Growth in traffic in all these markets exceeded capacity growth. Load factor reflects the efficiency in utilization of capacity. US airlines have high load factors, and their combined domestic load factor was 81.4%, higher than most other major economies, including Japan, Russia, China, India, Brazil, and Australia.