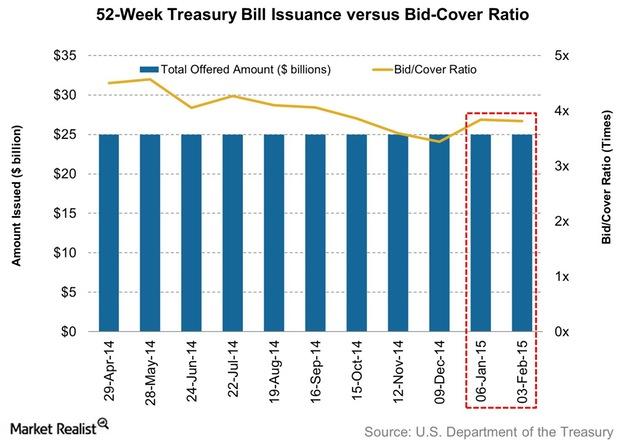 52-week Treasury bills attracted less demand in February 2015
By David Ashworth

Aug. 18 2020, Updated 5:13 a.m. ET
52-week T-bills auction
The US Treasury auctioned $25 billion worth of 52-week Treasury bills, or T-bills, (SHY) on February 3, 2015.
T-bills mature in one year or less. They're at the very short end of the yield curve. Other Treasury securities like Treasury notes (IEF), or T-notes, and Treasury bonds (TLT), or T-bonds, are issued for longer maturities. ETFs—like the PIMCO Enhanced Short Maturity ETF (MINT) and the SPDR Barclays 1-3 Month T-Bill (BIL)—have exposure to T-bills.
Article continues below advertisement
Key takeaways
The auction was held on February 3.
The auction size was set at $25 billion—it didn't over the last 13 auctions.
The issue's high discount rate was 0.205%—lower than January's 0.250%.
Coverage for 52-week T-bills
Even though the issuance didn't change, the demand for the securities was weak. The bid-to-cover ratio fell 0.8% to 3.8x month-over-month. The ratio averaged 4.2x in the auctions held in 2014.
The auction saw market demand fall to 43.7% of competitive accepted bids—from ~48% in January's auction. The fall was due to lower indirect bids. The category includes bids from overseas governments. It fell from 44.1% to 39.2% month-over-month.
Direct bids include bids from domestic money managers. These bids rose during the month. The percentage of direct bidder allotments rose from 3.9% in January's auction to 4.6% in February. Primary dealer bids were higher at 56.3%—from 52% in January.