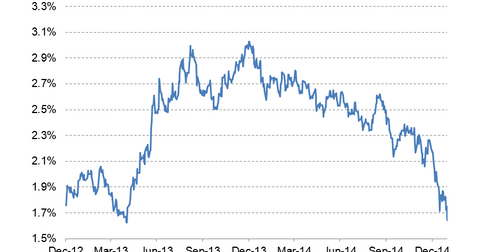 The 10-year bond yield approaches pre–taper tantrum levels
By Brent Nyitray, CFA, MBA

Nov. 20 2019, Updated 11:40 a.m. ET
The ten-year bond yield is the basis for long-term interest rates
The ten-year bond influences everything from mortgage rates to corporate debt. It's now the benchmark for long-term US interest rates. Old-timers might remember when the 30-year bond was the benchmark, but that changed in the 1990s. When investors want to know what's going on in the bond market, they in essence want to know where the ten-year bond is trading.
Note that short-term rates are still important, particularly the London interbank offered rate (or LIBOR), which is the base rate for almost all short-term rates.
Article continues below advertisement
Rate information is relevant to mortgage real estate investment trusts (or REITs) like American Capital Agency (AGNC), Annaly Capital (NLY), Hatteras (HTS), Capstead (CMO), and MFA (MFA). It's also helpful for people who invest in homebuilders and fixed income ETFs like the iShares 20+ Year Treasury Bond (TLT).
Bond yields are influenced by European trading
Bonds yields have been influenced heavily by European rates since last summer, when rates globally began to fall as the markets speculated about further QE (quantitative easing) measures out of the European Central Bank (or ECB). European bond yields continued their rally, and the German Bund is now within a few basis point of the Japanese Government Bond Yield. This is a stunning development for global bond market observers.
The ten-year bond began the week at 1.80% and dropped 16 basis points in yield to close out at 1.64%. The US ten-year bond is now at levels seen right before the "Taper Tantrum" or the bond market sell-off that began when the Fed announced that it was planning to end QE. Interestingly, the 30-year bond has blown through the lows set in 2012, and it now yields 2.22%.