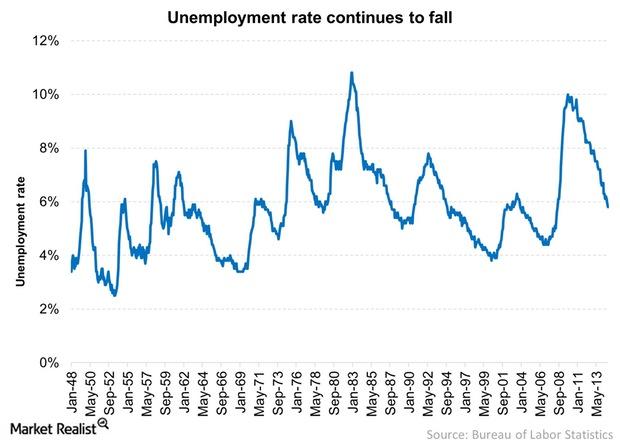 Why young investors are keeping cash under the mattress
By BlackRock-iShares-ETFs

Dec. 4 2020, Updated 10:53 a.m. ET
Given the economy, younger investors are also likely to have an understandable fear of unemployment, and so want to keep cash on hand—as opposed to investing it in equities that, in their experience, can suffer massive drops in value.  It's the modern equivalent of people who lived through the Depression stuffing cash under the mattress.
Article continues below advertisement
Market Realist – Unemployment fears are causing young investors to keep cash under the mattress
The above graph shows unemployment rates in the United States since 1948. During the Great Recession at the end of the first decade of the 21st century, the unemployment rate touched 10%. This was the highest level since the mid 1980s.
The fear of unemployment has driven young investors toward cash rather than equities (SPY)(IVV) for financial security. The financial crisis, one of the worst crises of all time, has caused fear in the minds of youth since many people, especially those with less experience, lost their jobs during that time.
This created a double-whammy effect. Not only are young individuals scared of investing in equities, they're also hoarding cash under the mattress for financial stability in case a similar crisis should reoccur.
Not too long ago, the average duration of unemployment reached an all-time high of 40 weeks. Currently, the number is around 33 weeks, which is still quite high compared to historical levels.
Average wages remain suppressed. This is causing young investors to invest less, if at all.
As mentioned earlier, despite the fact that equities tend to be risky, they yield better returns than all other assets, including high yield bonds (HYG)(JNK) and other corporate bonds (LQD). If you keep a long-term view, you'll benefit.