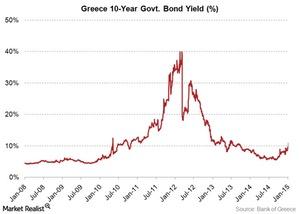 Yo-yo bond yields up again on instability in Greece
By Surbhi Jain

Aug. 18 2020, Updated 5:25 a.m. ET
Bond yields: A measure of risk perception
Bond yields are a measure of the required return that investors expect. Yields compensate investors for the time value of their money and for any default risk attached to the issuer of the security.
When investor perceptions with respect to the economic stability of Greece (GREK) dwindled, yields shot up to compensate for the additional risk attached to investments in Greek bonds.
Article continues below advertisement
Yields in Greece since the crisis
Given stock market sentiment and investor perception of the risk associated with Greek debt, yields on Greek bonds rose until 2012. From ~4.5% in January 2008, yields rose to ~40% by mid-February 2012—a nine-fold increase.
It took time for investors to regain confidence in the credibility of Greek debt and for that confidence to be reflected in the bond market. But after 2012, as confidence seemed to revive, yields on Greek bonds started to decline. By August 2014, bonds were back down to about 5.5%.
That all changed again in September, when political uncertainty returned to Greece. Yields reversed direction and have been rising ever since.
Yields shoot up in Greece amid rising investor concerns
Yields on Greek sovereign ten-year bonds surged by 12.1% on December 29, from 8.5% on December 24 to 9.5%. The snap election results meant an early general election. Yields have been rising since then amid rising investor concerns. The yield on the Greek sovereign ten-year bonds crossed the 10% mark on January 7, 2015.
Rising yields, widening CDS spreads, or the declining stock market—whatever the indicator, the reason for the Greek economy's poor performance remains the same. Rising political uncertainty is fueling concerns about the economic stability of Greece and worry about what the repercussions might be for the rest of Europe (VGK) (EZU) (FEZ) ( IEV).