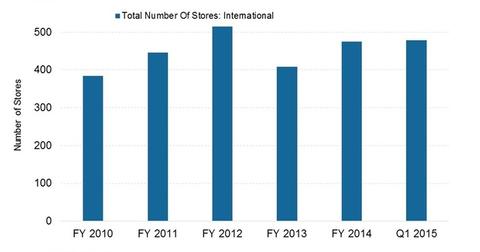 Transporting Sales Growth At Coach Into The Future
By Phalguni Soni

Updated
Travel retail
L'Oreal's (OR.PA) 2013 annual report names travel retail "Retail's sixth continent." Travel retail includes sales made at duty-free stores, on airlines, cruises and ferries, and at any retail areas designated for travelers. The size of the global travel retail (XRT) market is expected to double over the next ten years to $100 billion. The fashion and accessories segment makes up about 13.5% of the market.[1. Source: Generation Research forecast, L'Oreal]
Article continues below advertisement
Travel retail represents a sizeable part of Coach's international wholesale sales. Coach's network of travel retail outlets numbered 110 at the end of 1Q15. The company expects to add ~30 net new locations by the end of fiscal 2015.[1. Fiscal year ending June 30, 2015, quarter ending September 27, 2014]
New markets
Coach also announced plans to expand into underpenetrated markets of Asia and Europe, as well as South and Central America. Coach plans to add ten new retail (XRT) stores and 100 wholesale locations in Europe in fiscal 2015, with revenues expected to grow to ~$100 million.
For more on the key China market, read Part 12.
Coach is part of the Vanguard Mid-Cap ETF (VO), the First Trust Large Cap Core AlphaDEX Fund (FEX), and the First Trust Large Cap Value AlphaDEX Fund (FTA).
Discounting
Coach, Inc. (COH) also plans to lower the number of flash sales and Coach days at stores. There used to be about three flash sales per week. By year end fiscal 2015, the company plans to have no more than one or two such sales per month.
The company is trying to shift toward higher-priced products, and too many promotions and discounts tend to lower brand value. It's also looking to up the annual promotional spend by ~$50 million. In 1Q15, promotional activities saw much higher exposure in the print media, particularly leading up to September's fashion spreads, reflecting the higher brand positioning Coach is targeting.
For an analysis of the Transformational Plan's growth implications, read the next part of this series.