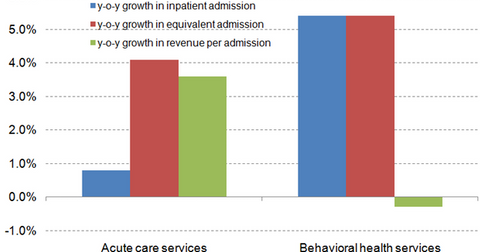 UHS's acute care segment performed better than behavioral health
By Margaret Patrick

Updated
Healthcare industry
The healthcare industry is represented by the Health Care Select Sector SPDR (XLV). In 2014, the industry registered solid growth in admissions. The growth was due to the favorable impact of the Affordable Care Act, or ACA. It was also due to the recovering US economy.
According to census data, it's estimated that in 2015 there will be about 4.8 million people above the age of 65 in the US. This age group requires more medical care. Favorable demographic trends and a larger insured population helped boost acute care admissions and profits in 2014. It boosted admissions and profits for hospital operators—like HCA Holdings (HCA), Universal Health Services (UHS), Community Health Systems (CYH), and Tenet Healthcare (THC).
Article continues below advertisement
Comparative analysis     
Although the ACA's implementation increased the total insured population, the behavioral health segment hasn't seen any benefits. By 2015, it's expected that Universal Health Services and other behavioral health players will witness an increase in patient volumes and revenues.
The above graph shows the increase in inpatient admissions, equivalent admissions—the total inpatient and outpatient admissions, and revenue per admission for acute care services and behavioral health services in 3Q14—compared to 3Q13. Although the increase in total admissions for behavioral health has been more than the acute care segment, revenue per admission declined for the former segment.
Revenues in the behavioral health segment depend on the average length of a patient's stay. As Medicaid and commercial insurers pressure patients to reduce their stay, the revenue per patient declines. A per diem is a payment mechanism. It's based on the length of a patient's stay. It tends to underpay for the large number of complex services provided in the first few days of treatment. Compensation is less—due to the restricted length of a patient's stay.