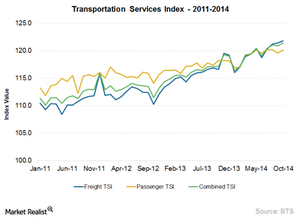 Transportation services index up, marks economic growth
By Teresa Cederholm

Jan. 6 2015, Updated 2:30 p.m. ET
Transportation Services Index
The transportation services index measures changes in the passenger and freight movements in the US domestic market. The TSI includes only domestic for-hire transportation operated by a company that provides transportation services for a fee. It excludes noncommercial passenger transportation, taxi, and intercity bus services.
The TSI is released monthly by the Bureau of Transportation Statistics (or BTS) and consists of three indexes: freight index, passenger index, and combined index. It considers all modes of transportation used for hire, including air, rail, road, and water.
Article continues below advertisement
Economic indicators
The freight and passenger indexes are important economic indicators. While the freight transportation services index (or TSI) acts as a strong leading indicator of the economy, the passenger TSI is a coincident indicator. Movements of the transportation indexes reflect future trends in the economy and the transportation industry.
After comparing the trend with five recessions and many economic growth cycles, the BTS concluded that the TSI leads by an average of four months.
Freight TSI
In October 2014, the freight TSI reached 121.8, which is the all-time high for the index. On a year-to-date basis, the index was up by 2.2% in October, less than the 2.8% increase during the same period in 2013. The index had decreased to 118.8 from an all-time high of 120.4 in May 2014. It picked up again, increasing for four consecutive months from July to October.
The freight index encompasses five modes of transportation: trucking, air, water, rail, and pipeline. While trucking is the most widely used mode of transportation, the fastest growing model of transportation is by air, although it's the smallest in terms of volume.
Article continues below advertisement
Passenger TSI
The passenger TSI encompasses three modes of transportation: air, rail, and transit. Aviation is the passenger TSI's largest component. The passenger TSI increased by 0.4% in October to 120.1. The combined index also increased by 0.4% to 121.4 during the month.
US airlines
In the US airline sector, the top companies providing passenger and freight transportation services include Delta Airlines (DAL), United Continental (UAL), American Airlines (AAL), Southwest Airlines (LUV), and JetBlue Airways (JBLU). Exposure to these stocks can be gained through transportation ETFs such as the iShares Transportation Average ETF (IYT) and the SPDR S&P Transportation ETF (XTN).