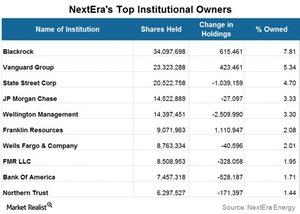 The biggest owners of NextEra Energy and what they're thinking
By Matt Phillips

Updated
Institutional ownership at NextEra
A total of 1,474 institutions own more than 76% of NextEra Energy's (NEE) shares. Out of NextEra's 436 million outstanding shares, 334.6 million shares are currently held by institutional investors. That's a major portion.
Yet, NextEra's institutional ownership is in line with the industry average. The average among companies that are part of the Select Sector Utilities Select Sector SPDR Fund (XLU) is 77.8% institutional ownership.
Article continues below advertisement
Top institutional owners
Institutional investors invest in stocks only after thoroughly researching a given company and the industry of which it's a part. Since retail investors don't have access to high level information and research tools, tracking institutional investor interest in a stock is one of the key data points investors can look at before investing in a company.
NextEra's institutional owners include some of the biggest asset management companies in the world. BlackRock Inc. (BLK) has the highest stake in NextEra. BlackRock owns more than 34 million shares, or 7.81%, of NextEra's total outstanding shares. NextEra's other top owners include Vanguard Group, State Street Corporation (STT), and JPMorgan Chase (JPM).
Share price appreciation is a critical consideration for investors, but dividend income is also important. Adding power utility stocks to portfolios helps these institutions generate steady dividend income.
It's important to note that the top ten institutions have reduced positions in NextEra stock since the last quarter ending in September 2014. These institutions sold close to 2.5 million shares during this period, suggesting a bleak outlook for the stock in the near term.