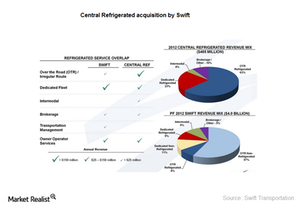 Swift's Central Refrigerated acquisition – a good bet gone bad?
By Ally Schmidt

Updated
Central Refrigerated acquisition
Swift Transportation (SWFT) acquired 100% of Central Refrigerated for a total value of $225 million. Central Refrigerated is a privately-held company. It's owned by Jerry Moyes. It was the nation's fifth largest carrier in the refrigerated truckload market.
The acquisition included an equipment fleet of 2,065 tractors. All of the tractors were below five years old. It would provide a comprehensive range of services—including line haul, dedicated, brokerage, and intermodal.
The acquisition was customer centric. It was a strategic fit. It would fill the gaps in Swift's current offerings. It's expected to provide Swift with a scale up in the growing refrigerated market. You can see this in the above chart.
Article continues below advertisement
However, Swift's Central Refrigerated acquisition wasn't as smooth as expected. The company had to deal with its share of challenges. In the previous quarters, the segment dragged down the company's top lines. It was under pressured in the third quarter. Also, it was impacted by the large driver wage increase. The increase was implemented by the company in the same quarter.
The deadhead in the segment also increased to 15.95 in the third quarter. This was basically done to meet customers' requirements. Besides this, the operating ratio improved. Now, the system is said to be fully implemented. The company trained its workforce to comply with the system. The company established initiatives to give its drivers better lives. It wants to motivate them to go from a hire-to-retire in the company.
Swift slowly started to realize the segment's true potential. Swift wants to ensure that the segment becomes a successful part of its suite of services.
Other companies in the trucking industry include YRC Worldwide (YRCW), J.B. Hunt Transport (JBHT), and Werner Enterprises (WERN). These companies are part of the iShares Transportation Average ETF (IYT).