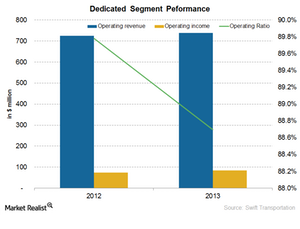 Swift shifts towards a growing Dedicated segment
By Ally Schmidt

Updated
Dedicated segment outlook
Swift Transportation's (SWFT) next segment is its growing Dedicated segment. This segment includes the long-term contracts. It signs the contracts with its customers. By signing the contracts, Swift guarantees that it will have adequate capacity during peak periods.
Dedicated trucking services is probably the fastest-growing segment for most trucking companies. During 2013, the segment accounted for up to $40 billion of the $280 billion truckload market. It's expected to rise more in the future.
Article continues below advertisement
What are the segment's advantages?
The segment's biggest advantage is that it secures capacity, locks price, sets a shipper's budget, and takes volatility out. It does all of this at a competitive price. It helps smooth out carriers' operations and reduces the overall costs.
The long-term contracts also guarantee that a shipper has dedicated business—despite uneven economic conditions. It also helps retain drivers. Drivers prefer familiar routes. This allows them to have more home time. It also helps provide timely pick ups and delivery, little or no empty miles, no delays in transit, and optimum equipment utilization.
How did the segment perform?
The Dedicated segment saw revenue growth of 31.7% year-over-year, or YoY. Its revenue totaled $197.7 million. Its year-to-date, or YTD, revenue growth was 21.3% for 2014. The segment had 28.8% growth in its total truck count.
Swift has been shifting its focus from the Truckload segment to the Dedicated segment. It's keeping an eye on the strong demand in the industry. It provided startup costs of up to $2 million. Also, it partially shifted its fleet to the segment to meet the demand. The company also predicts that the segment will grow in the coming year.
Major players in the industry include Landstar System (LSTR), Old Dominion Freight Line (ODFL), and Werner Enterprises (WERN). Some of these companies are part of the First Trust Industrials/Producer Durables AlphaDEX Fund (FXR)