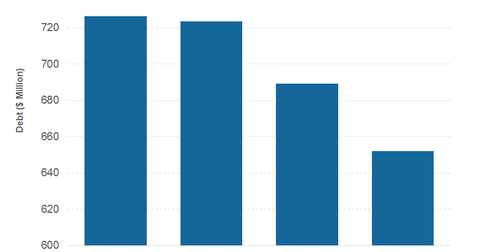 SunCoke's financial position is better than others in the coal ETF
By Mike Sonnenberg

Updated
Peer comparison
Most of the American companies that are part of the VanEck Vectors Coal ETF (KOL) are highly leveraged. Peabody Energy (BTU) has a debt of $6 billion, followed by Arch Coal's (ACI) $5.2 billion and Alpha Natural Resources' (ANR) $3.8 billion.
We've explained how American coal producers leveraged themselves in the Market Realist series Should you expect big US coal mergers and acquisitions soon? Only a couple of players such as Cloud Peak Energy (CLD) and Westmoreland Coal Company (WLB) have managed to keep their debt levels in check. While SunCoke Energy (SXC) is not a coal producer in the strictest sense, it boasts one of the most prudently managed balance sheets among its peers in the VanEck Vectors Coal ETF (KOL).
Article continues below advertisement
SunCoke's leverage
SunCoke Energy (SXC) had a total debt of $652 million as of September 30, 2014, down from $689 million on December 31, 2013. While debt levels of major coal producers in the United States are on the rise since 2011, SunCoke Energy's debt level has been falling each year. Out of $652 million of total debt, $240 million matures in 2019 and the remaining in 2020, leaving the company with ample time to weight its options. Moreover, capital expenditures through its own sources since 2012 has resulted in a consistent increase in the company's asset base without taking on additional leverage, adding to financial flexibility in terms of possible refinancing.
Liquidity
As of September 30, 2014, SunCoke Energy (SXC) had available cash and cash equivalents of $115 million. The company also had around $400 million available under revolving credit facilities, taking its total available liquidity to $515 million. While the company has burned free cash in the first nine months of 2014, its business model helps the company prevent large cash outflow. The MLP structure mandates SunCoke Energy Partners (SXCP) to invest or distribute large portions of generated cash flows.
So far, we've covered the major operational and financial aspects of SunCoke Energy (SXC). What's our opinion about the company? Let's discuss that in the next part.