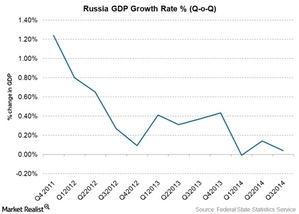 Russia's rating is at risk, affecting your return on investment
By Surbhi Jain

Jan. 5 2015, Published 12:04 p.m. ET
GDP contraction in Russia
Your return on investment (or ROI) in the Russian economy is currently exposed to greater risk. The three main issues dragging the economy's growth to recession-like conditions are the depreciating value of the ruble, declining export revenues from oil, and rampant inflation.
On Monday, December 29, the Russian Ministry for Economic Development noted that Russia's gross domestic product (or GDP) had shrunk by 0.5% year-over-year in November 2014. The decline is the first drop in the national output since October 2009. Russia's economic growth had already been slowing sharply since 2013 because of a drop in investment.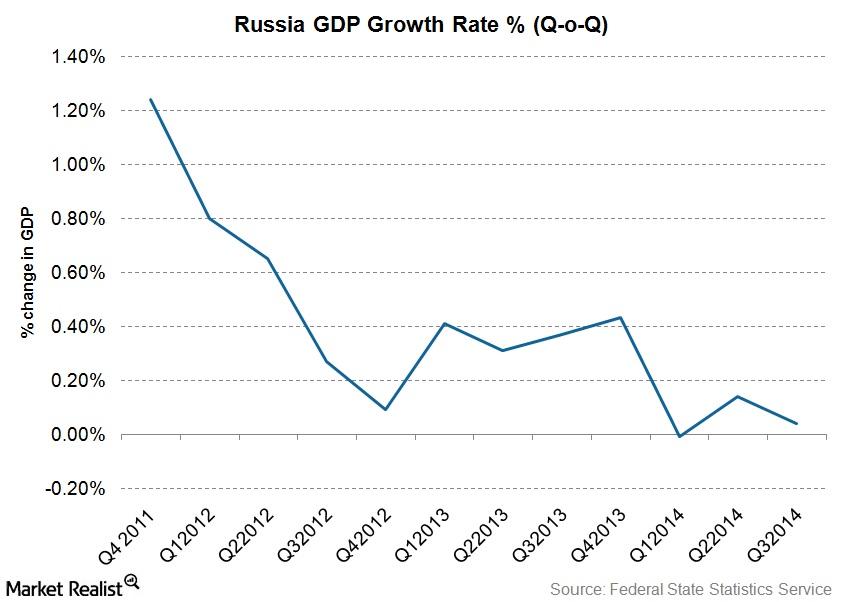 From manufacturing to construction, agriculture to service, all sectors of the Russian economy contracted in November, primarily due to Western sanctions and a depreciating currency. The Russian government now expects a 0.8% decline in GDP next year, compared with 0.6% GDP growth in 2014.
The performance of the iShares MSCI Russia Capped Index Fund (ERUS) and the VanEck Vectors Russia ETF (RSX) serves as a good gauge of the Russian economy, just as the SPDR S&P 500 ETF Trust (SPY), the iShares S&P 500 Index ETF (IVV), and the iShares S&P 100 Index ETF (OEF) do for the US economy.
Article continues below advertisement
Fall in Russia's manufacturing PMI
The performance of Russian factories, as measured by the HSBC Purchasing Managers' Index (or PMI), points to a contraction in the industry. The index, which evaluates the business conditions of Russia's 300 manufacturing companies, fell to 48.9 in December from 51.7 in November. By considering a number of indicators, such as general output, new orders, and employment, the HSBC PMI provides a snapshot of operating conditions in the country's manufacturing economy. Readings above or below 50.0 indicate expansion or contraction in business activity, respectively.