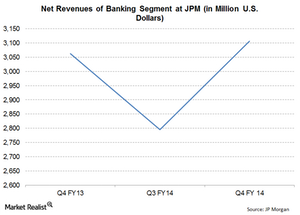 Results for JPMorgan's Corporate & Investment Bank sub-segment
By Saul Perez

Updated
JPMorgan's second most profitable segment
The Corporate & Investment Bank, or CIB, business segment is JPMorgan Chase's (JPM) second largest segment—by sales and profits. This business segment provides services to corporate clients—mainly related to capital raising, proprietary trading, and other investor services.
The business segment reported stellar results in the fourth quarter. The segment can be further divided into banking revenue and market and investor services revenue. There were a few main themes in this segment. First, let's look at banking revenue.
Article continues below advertisement
Banking revenue was excellent
In JPMorgan's CIB segment, banking revenue includes the fees from investment banking, treasury services, and lending. Investment banking fees rose 8% year-over-year, or YoY. To a large extent, the investment banking fee was helped by a record debt underwriting fee. Debt underwriting rose 31% YoY to $1.1 billion. However, the equity underwriting wasn't good. The equity underwriting fee was $327 million—a fall of 25%.
JPMorgan is one of the strongest players in the investment banking space. It's much larger than Bank of America (BAC), Citibank (C), and Wells Fargo (WFC). It also has a strong global presence. JPMorgan tops the investment banking league tables for many product streams. Investors can get balanced exposure to these banks by investing in a diversified ETF—like the Financial Select Sector SPDR (XLF).
Treasury services recorded revenue of $1 billion. This was an increase of 3% YoY. Lending revenue was $264 million. This was a sharp fall of 33% YoY. This was due to mark-to-market losses on securities received on restructuring.