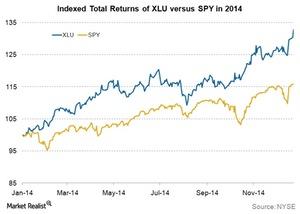 Power utilities cheer investors with blockbuster returns in 2014
By Matt Phillips

Dec. 4 2020, Updated 10:53 a.m. ET
Utility sector this year
The US power utility sector was one of the strongest performing industries in the markets in 2014. The Utilities Select Sector SPDR (XLU) gained by 28.3% this year compared to 13.6% gains for the SPDR S&P 500 ETF Trust (SPY). XLU is a key ETF in the power utility industry, while SPY is an ETF tracking the S&P500 (SPX) benchmark index.
The year-to-date returns of the US power utilities sector is impressive, considering it is a mature and defensive sector.
Article continues below advertisement
Total returns comparison
US power companies distribute a high percentage of their income to shareholders as dividends. Total returns are a better parameter to evaluate the sector's performance. Total returns include both share price appreciation and dividends income of investors.
XLU's outperformance to SPY widens further when compared on the basis of total returns. XLU's total return this year is 32.8%, while the SPDR S&P 500 ETF Trust (SPY) returned 15.8% in 2014. At current prices, XLU offers a dividend yield of 3.48% and SPY offers a dividend yield of 2.19%.
Edison International (EIX), Exelon Corporation (EXC), and Entergy Corporation (ETR) generated the highest returns in 2014 among all US power companies.
Prior to 2014, the utility sector was out of favor and had underperformed the broader markets since the beginning of the bull run that started in 2009. The superior returns this year could be an indication that the sector is warming up for superior returns.
Indicators to watch
Investors following the power sector should watch for key indicators that drive power companies. Some of the industry-specific indicators are data on electricity consumption, electricity prices, fuel sources, and regulations. We will explore these factors in detail in this series.