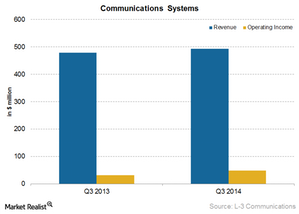 The performance of LLL's Communication Systems segment
By Ally Schmidt

Updated
Communication Systems
The Communication Systems business segment of L-3 Communications Holdings Inc. (LLL) connects space, airborne, ground, and sea-based platforms with secure, real-time data. This drives the company's communications business in addressing the heightened global demand for advanced solutions.
Communication Systems is a key integrator of state-of-the-art maritime platforms such as the US Coast Guard's Fast Response Cutter. The segment also provides complex encryption and data security for a variety of new aircraft programs and US Army infrastructure initiatives.
L-3's Communication Systems segment competes with Rockwell Collins (COL), Northrop Grumman Corporation (NOC), and Raytheon Company (RTN). Some of these companies are part of the iShares Dow Jones US Industrial ETF (IYJ).
In this article, we will look at the performance of LLL's Communication Systems segment.
Article continues below advertisement
Performance in 3Q14
During the third quarter of 2014, the segment saw a rise in deliveries of power devices, commercial satellites, advanced communications systems, and broadband communications systems. The segment's sales grew by 3.4% year-over-year to $493 million.
L-3 has gained significant contracts in the Communication Systems segment, which creates solid, long-term positions for growth in both international and commercial areas. Additionally, this segment is providing products and capabilities to the company's National Security Solutions segment. This will help the company capture new contract opportunities, expand work, and yield positive results.
Year-to-date performance
Communication Systems' net sales for the 2014 year-to-date period decreased by $128 million or 8% compared to the 2013 year-to-date period. Sales fell $130 million for broadband communications systems. A number of factors contributed to these results:
lower volume for airborne and ground-based networked communication systems as contracts neared completion
demand declines due to sequestration and other US Department of Defense budget reductions
lower US Army demand for remote video terminals and ISR (intelligence, surveillance, and reconnaissance) support services driven by the US military drawdown from Afghanistan
completion of a specialty radio frequency contract for the US Army
The segment's operating income for the 2014 year-to-date period increased by $31 million or 27% compared to the 2013 year-to-date period. Operating margin increased to 9.7%. This was mainly due to a lower pension expense of $22 million, improved productivity, and lower production and development costs.
In the next article, we will look at L-3's National Security Solutions segment.