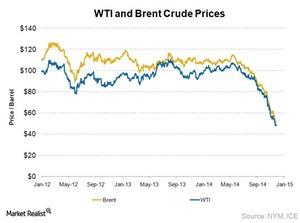 Nordic is benefitting from low oil prices
By Katie Dale

Updated
Low oil prices
In its recent press release to shareholders, Nordic American Tankers (NAT) commented that low oil price is good for crude tanker companies. Lower oil price leads to increased oil demand and economic growth, stimulating the need for transportation.
The company further adds that the current rates in the spot tanker market have continued on a positive path, auguring well for the fourth quarter of 2014, a development it hopes will continue in 2015.
Article continues below advertisement
Rise in oil demand is pushing economic growth
The recent drop in oil prices is positive for the world tanker business and for economic growth. The drop in prices also has a positive impact on industry (SEA) companies like DHT Holdings (DHT), Teekay Tankers (TNK), Frontline Ltd. (FRO), and Tsakos Energy Navigation Ltd. (TNP).
The major impact of a lower oil price is rising oil demand, as it triggers stockpiling and building up strategic reserves. For example, a saving of $20 per barrel leads to $55 billion savings annually. Also, the benefits trickle down in the economy, leading to more investment and more jobs.
Nordic believes that despite significant oil production in the US, the shipping market will still see rising volumes of oil being transported due to demand from other places.
The rising demand increases the worldwide demand for Suezmax tankers, which is positive for the Nordic American Tankers business. We'll discuss this increase in demand in the next part of the series.
Bunker fuel costs
Nordic American Tanker commented that the largest cost item is the bunker fuel that the ships are burning in the main engines. Until recently, bunker fuel costs stood at about $600 to $650 per ton. NAT has 22 vessels that typically burn about 40 to 50 tons of fuel per day each, depending upon the speed of the vessel. Recently, bunker prices have dropped to around $450 per ton, which is positive for the company.