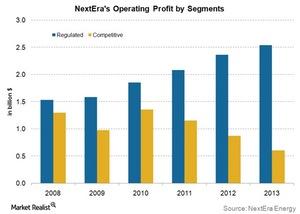 NextEra efficiencies fire strong operational profits
By Matt Phillips

Nov. 21 2019, Updated 3:54 p.m. ET
Operating profits
As mentioned in Part 3 of this series, NextEra Energy's (NEE) operations includes interests in both the regulated and competitive electricity business. The majority of NextEra's operating profit comes from the regulated segment—nearly 80% in 2013.
Operating profits refer to the earnings of a company from its core operations before accounting for interest and taxes.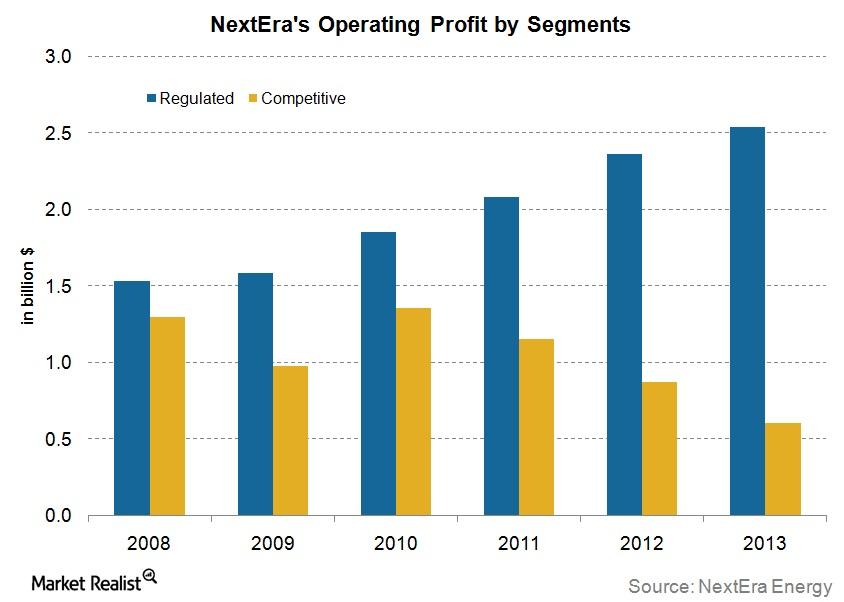 Article continues below advertisement
Profits from regulated operations
As you can see in the chart above, NextEra's operating profits from its regulated business have increased considerably in the last five years. Operating profits surged from $1.6 billion in 2009 to $2.5 billion in 2013.
NextEra's profits continued to surge in fiscal 2014 as well. The company's operating income from the regulated segments increased by 10% in the first three quarters of fiscal 2014 compared to same period in fiscal 2013.
It's interesting to note that while profits from the regulated segment have grown over the years, profits from the competitive, or unregulated, segment have fallen. Low power prices in the wholesale markets have caused this drop. Also, wind energy pricing fell to all-time lows during this period. NextEra's competitive business runs 56% of its generation capacity on wind energy.
Operating income for the competitive segment did bounce back in the first three quarters of fiscal 2014, however, and could possibly show positive year-over-year growth for the first time since 2010.
Operating margin grows
What makes NextEra's performance commendable is that despite stagnant revenues, its operating profits have grown. This means the company has improved its operational efficiency. NextEra's operating margin during this period rose from 17.2% to 21.4%.
Within the Select Sector Utilities Select Sector SPDR Fund (XLU), NextEra reports the fourth-highest operating margin after Dominion Resources (D), Wisconsin Energy Corporation (WEC), and Public Service Enterprise Group (PEG).
The lower cost of electricity generation has helped NextEra achieve higher operating margins. Next, we'll look at the company's cost structure.