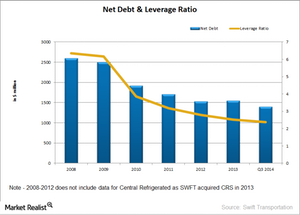 Must-know: Swift Transportation's battle with debt
By Ally Schmidt

Updated
Swift's battle with debt
Debt is a double-edged sword. A company uses debt to finance its growth. However, debt can strain a company's balance sheet if it isn't watched.
Swift Transportation (SWFT) has had a battle with debt. It used debt to finance its acquisitions. Its strategy went sour during the 2008 subprime recession. Swift used leverage for its acquisition of Interstate Equipment Leasing, or IEL, in 2007.
In 2008, the company went through a rough patch. It posted losses of $678 million. Swift decided to pay off its highly leveraged balance sheet after its initial public offering, or IPO, in 2010.
Article continues below advertisement
Reducing its debt
Since then, Swift reduced its liabilities. It managed to bring its leverage ratio from 6.35 in 2008 to 2.37 in 3Q14. It paid off $56 million in debt. By 2017, it wants to bring its leverage ratio down to 1.5.
Swift's long-term debt-to-total-assets ratio declined from 0.47 in 3Q13 to 0.35 in 3Q14. This suggests that the company is becoming less dependent on debt to grow its business.
For the past few years, Swift used its cash flow to pay down its debt every quarter. Recently, the company launched a bid to refinance $1.09 billion of its $1.53 billion outstanding debt. This would help lower its average weighted cost of debt by 200 basis points, or bps. It would save the company $30 million in annual interest expense.
Future plans
Swift plans to continue to use its cash flow to repay debt. It also plans to reinvest in the business. In the fourth quarter, the company anticipates a rise in the debt balance by about $30 million. It plans to refinance the long-term notes, pay the additional redemption costs, and finance higher capital expenditures.
As a result, we can say that Swift successfully managed its debt issues. It's expected to lower its debt-to-equity ratio more.
Other companies in the trucking industry include SIRVA (SRVA), Old Dominion Freight Line (ODFL), and Universal Truckload Services (UACL). Some of these companies are part of the First Trust Mid Cap Growth AlphaDEX Fund (FNY).