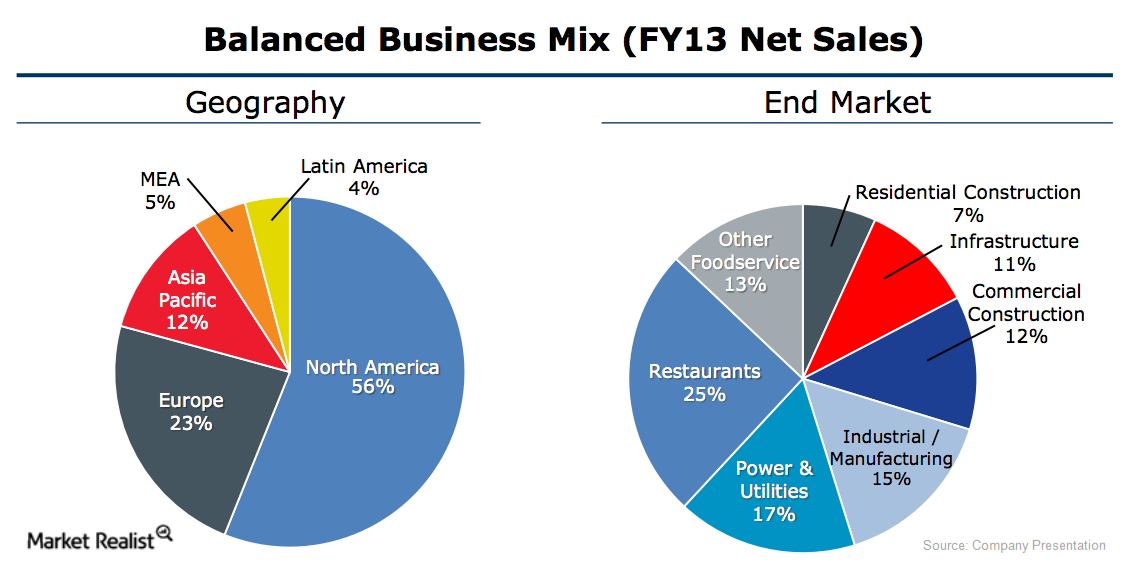 How Manitowoc's 3Q results reflect "muted demand environment"
Overview of Manitowoc's businesses
As discussed earlier, Icahn has acquired an activist position in Manitowoc. The fund wants the company to split its crane and foodservice segments. In this part we'll go through a brief overview of Manitowoc's businesses.
Manitowoc, a Wisconsin-based company, has two main business segments:
Cranes and related products
Foodservice equipment
Manitowoc has a global footprint with presence in all major geographies and serves diversified end markets. The company reported revenue of $4 billion for fiscal year 2013. The crane segment accounted for 62% of the revenue in 2013. The foodservice segment accounted for the remaining 38%.
Article continues below advertisement
Disappointing 3Q14 results
For 3Q14, MTW reported net sales of $986.3 million, a decrease of 2.5% compared to $1.012 billion in 3Q13. The net sales declined almost by the same percentage sequentially. During the quarter, the foodservice segment had a sales increase of 3.8%, which was offset by a 6.7% decrease in the Crane segment.
Manitowoc's management said its "third-quarter results reflect the muted demand environment brought on by uncertainty in the global economy." Management said the company "continued to face a challenging demand environment globally, and a general lack of customer confidence, particularly in cranes."
Generally accepted accounting principles (or GAAP) net earnings were $73.1 million, or $0.53 per diluted share compared to $52.9 million, or $0.39 in 3Q13. Adjusted earnings from continuing operations were $50.1 million, or $0.36 per diluted share, compared to $54.5 million, or $0.40 in 3Q13.
Due to the weakness for the cranes segment, overall revenue for the first nine months of the year slipped 3.2% to $2.85 billion.
No revision in 2014 outlook
This year Manitowoc is projecting foodservice revenue to rise 1% to 5% on a year-over-year (or YoY) basis with ~15% operating margin. Manitowoc projects that cranes revenue will decline by 5% to 9% on a YoY basis with ~7% operating margin.
Manitowoc and its peers
The demand for crane products is cyclical, as it depends on macroeconomic conditions and factors that influence construction activity internationally, nationally, or regionally. A subdued demand environment will impact Manitowoc and its construction equipment peers Terex (TEX), Columbus McKinnon (CMCO), and Caterpillar (CAT). Its foodservice business peers are Middleby (MIDD) and Illinois Tool Works (ITW).
Globally, the company's competitors include Liebherr Group, Cargotec Oy (CYJBF), XCMG Group, Zoomlion Heavy Industry (ZLIOY), Sany Heavy Industry, Hitachi Sumitomo Heavy Industries Construction Crane Co, Fuwa Heavy Industry Machinery Co, and Konecranes Oyj.
In the next part of the series, we'll take a closer look at Manitowoc's crane business.