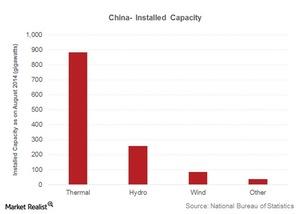 Lucrative markets for nuclear reactor manufacturers like GE
By Mike Sonnenberg

Updated
China
China is the world's largest power producer and polluter. China has electricity generation capacity of over 1,250 gigawatts or GW, over 20% of the whole world's. Around 70% of this capacity is fired by coal, generating around 80% of China's electricity output. With a view to diversify its energy sources, China is investing in other sources of energy—including renewables and nuclear energy. China's nuclear power generation capacity has grown by over 50 GW (around 25%) between 2012 and 2014. On the other hand, conventional thermal capacity (mainly fired by coal) has grown by 12.8%. China's energy policy and economic growth are two key driving factors for further additions to nuclear power capacity in the country.
Article continues below advertisement
India
India currently has nuclear power capacity of 5.3 GW. While India's energy needs are growing, fuel security remains a key concern with domestic coal production falling short of demand. To diversify energy sources, India plans to double its nuclear power capacity by 2017. With electricity consumption expected to double over the next two decades, nuclear energy will play a significant role in the country's energy mix. India and the US agreed on co-operation for India's civil nuclear program in 2008.
Some challenges—such as disagreement over liability in accidents and public protests against planned nuclear plants—remain. However, India's new government is stressing reforms in the energy sector. Companies such as General Electric (GE), Areva, and Westinghouse Electric Company have bagged contracts to build new nuclear power plants in India. GE is a part of various ETFs, including the SPDR S&P 500 ETF (SPY) and the Industrial Select Sector SPDR ETF (XLI).
Article continues below advertisement
US
Five nuclear plants with total capacity of 6 GW are currently under construction in the US. Further, another 18 plants with capacity of 27.6 GW are planned or proposed. The plants under construction are being built for Southern Nuclear Operating Company (SO), Tennessee Valley Authority, and South Carolina Electric and Gas Company (SCG).
Bottom line
In short, China, India, other developing countries, and the US are the best bets for nuclear reactor manufacturers as other developed countries move away from nuclear power.