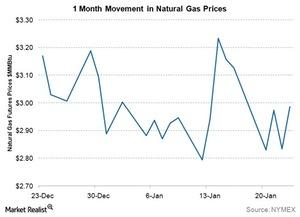 Low gas prices can make independent power producers uncomfortable
By Matt Phillips

Nov. 20 2019, Updated 12:49 p.m. ET
Natural gas as a source
Natural gas is the second-largest source of electricity generation in the United States, after coal. In 2013, 27% of electricity was produced from natural gas. The US Energy Information Administration (or EIA) predicts that, by 2035, natural gas will surpass coal as the largest source of US electricity generation.
Unlike coal, natural gas is procured by power producers on short-term and spot contracts. Changes in gas prices affect unregulated power companies immediately.
Article continues below advertisement
Natural gas prices fall
Gas prices fell 4.5% for the week ended January 23, 2015. Natural gas futures closed at $2.99 per million British thermal units (or MMBtu) on Friday. Natural gas in the recent weeks has become highly volatile on account of a lack of consensus among many agencies in forecasting this winter. Gas prices had jumped 11.9% in the week ended January 16, 2015.
Gas demand is highly dependent on weather. Weather extremes drive demand for the commodity. While some government agencies had predicted a warmer-than-average winter for the US, fresh forecasts indicate a harsh winter in the northeastern parts of the US.
Gas prices linked to the profitability of IPPs
Since natural gas prices highly correlate with wholesale power prices, a drop in gas prices results in lower wholesale electricity prices. This affects independent power producers (or IPPs) in the US like Calpine Corporation (CPN) and NRG Energy (NRG) adversely. IPPs sell electricity in the wholesale markets at market rates, so their profitability takes a hit when gas prices fall.
On the other hand, regulated power companies such as PPL Corporation (PPL) and Xcel Energy (XEL) get guaranteed returns over and above the costs of production and power delivery. State regulatory agencies determine the profit allowed to these companies. As a result, natural gas price fluctuations don't affect regulated companies.
The two companies are part of the Select Sector Utilities Select Sector SPDR Fund (XLU).